Student financial aid for international students is the fund they offer students in order to help them fend for their studies abroad. This financial aid comes with very little interest rate and it's payable upon completion of education. Many students who get admission to study abroad or outside their country most times lack the finance to fund their studies. It's always important to analyze the cost of study and how to source resources when you are about to study abroad. Meaning of student financial aid for international students, reasons for the loan and so on are all-inclusive in this article.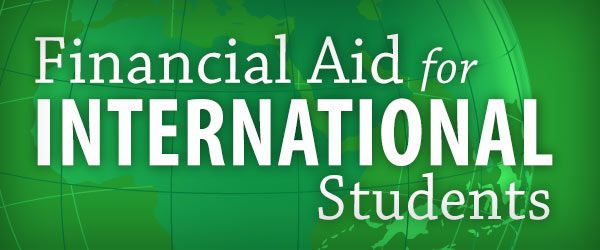 What is Student Financial Aid for International Students?
Student Financial Aid for International Students is the financial backup (loan) that can cover the entire cost of your college or university education. You can use the cash for tuition, books, supplies, housing and board, travel and transportation, and living expenses, etc. To learn what lenders are available to you, use our comparison tool.
Reasons For Student Loan
Many students desire to study abroad but do not have adequate financial support from their personal savings, family, and friends. But with student loan there is hope for students who want to study abroad. However, there are so many reasons an international student should go for student loan and they include:
1. Tuition fees
Because some students cannot afford the tuition fee which is usually paid annually. There is a need to apply for a student loan to accommodate such expenses.
2. Personal Needs
Apart from academic life, students face a lot of life challenges daily, which mostly are his/her personal needs, ranging from gaining other life skills while studying, medication because of ill health, and lots more. All these are so demanding on students and require financial attention, which can prompt you to go for a loan.
3. Low Interest Rate
Most government student loans have little interest rate, which they don't even expect you to pay while in school. You are to pay back when you earn upon completion of your studies.
4. Hope to study in your choice Institution
Student loans for international students ensure students study in the institution of their choice regardless of status and family background. 
5. Standard of living as a student
Only the thought of the standard of living abroad is enough to discourage an international student from going for his/her dream career. However, with student loan, student can access funds which cover their living expenses for the duration of their studies.
Uses of International Student Loan
You can use international student loans for various purposes. And this ranges from students' daily needs, tuition, books, research, to career investment.
Available International Student Loans include:
MPower Financing: This Loan is open to undergraduate students. It does not require a cosigner and the interest rate is very low and affordable.
Prodigy Finance: This is open to graduates and post graduates students and it requires a Co-signer.
Ascent Student Loans: This is open to all international students, both undergraduates and postgraduates.
Advantages of student loan for Students International Loans
Helps you afford your dream College.
It enables you to pay your tuition fee and other academic expenses.
It comes with a low-interest rate.
You can now apply for a student loan online from the comfort of your home.
Things worthy of note in other to repay student loan
Knowledge of the amount of the debt
This enables you to make plans of repaying the loan prior to the deadline
Judiciously using the loan stipulated period
This ensures you plan earlier on how to repay the loan while you make the best use of the loan duration. Meanwhile, any plan of repayment that does not work out as planned, there is always a need to re-strategize.
Getting a job while studying
As much as you should repay the student loan after completion of your education, you can as well get a job while studying or while in school, which is a part-time job. This will go a long way in helping you clear the loan even while in school.
Conclusion
Student loans for international students give hope to a lot of students who have an interest in studying abroad to actualize their dream. Even when they are financially unstable, student loans can assist them to attend their dream school and pay back the loan upon completion of their studies. You can give it a trial today. However, you can even learn more on how to apply for a student loan in Ghana as an alternative. Besides that, you'd need to know banks that give student loan in Ghana for it to be easier for you to apply appropriately.