Seed Fund Savings and Loans partners with business owners to grow their businesses. Sometimes you could have new business ideas and strategy, but lack the capital with which to start it and grow it. The Seed Funds is a customer-focused financial institution that partners with individuals to start and grow their businesses to the next level with loan offers. This article contains all you need to know about the Seed Fund Savings and Loans.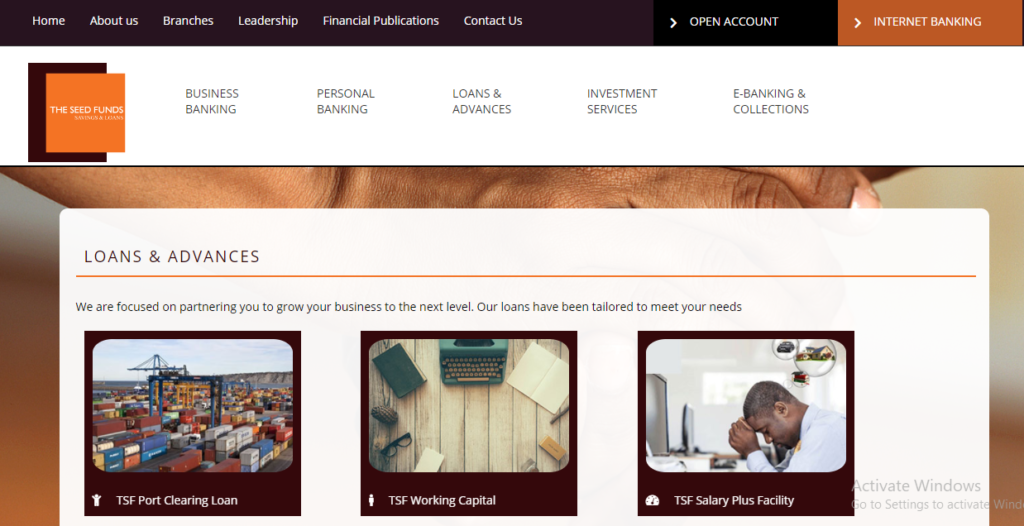 About Seed Funds Savings and Loans
The seed fund savings and loans company is a financial institution that delivers value adding products and services to customers. Furthermore, the company does this through the combination of people, technology, service and adequate capital. They have a vision of being the most referenced financial institution in the country by the end of 2019 and in West Africa within ten years of operation. They have a board of directors that foresee the affairs of the financial institution.
What are the minimum requirements for getting a Seed Fund loan?
Every lender typically sets out a list of requirements that every borrower must meet in order to qualify for the loan they offer. The following are the minimum requirements for Seed Fund Loans: 
The business owner's credit score
The credit score must be 680 or higher
Consistency repayment history
Any type of business is eligible
How to apply for Seed Fund loans
If you are a business owner and you intend to apply for seed fund loans, having met the above requirement. You can either apply online or visit their office. You can use the following guidelines to apply for seed fund loans:
Get the application form online or from their office
Fill in the required field
Accept the terms and condition
Sign and submit your document for processing
How fast do Seed Fund release funds?
It is important to know when to expect the fund you need to meet your financial commitment. After successful application, documentation and processing, they usually disburse their loans within 48hours.
Products offered by The Seed Funds Savings and Loans
The Seed Funds Savings and Loans offer an array of financial services ranging from banking, loans, and investments. They offer tailor-made loan services to their customers in partnership to grow their business operations.
The following are types of loans offered by Seed Funds loans:
TSF Port Clearing Loans – This loan is given to avoid the cost of demurrage when clearing your goods from the port.
Working Capital Loans – Giving you the required capital to fund your business
TSF Salary Plus Facility Loans – Loans for salary earners
LPO financing with TSF
Consumer Loans – Loans designed to meet household needs
The TSF government sector loans.
What is the interest rate of Seed Fund Savings and Loans?
Before accepting any loan offer, ensure you know the interest rate that comes with the loan. Interest rate on the Seed Fund loans ranges from 5% to 7% annually, depending on the type of loan.
Pros of seed fund loans
No business can grow successfully without adequate funding, either through personal savings, family and friends contributions or loans. You can gain the following if you get a seed fund loan to start or grow your business:
The business agreement is always flexible
It enables you to build relationship and network of people
There is usually no debt financing
Cons of seed fund loans
As much as there are things to gain from seed fund loans, there are factors that are still to be considered as a disadvantage for sourcing loan from seed fund loan. These factors include:
It may lead to diversion of fund
It may limit future profit during the first stage of the business growth.
There is high risk involvement
Restrictions
There are no restrictions on Seed Fund Savings and Loans.
What are their contact details?
For more enquiries, you can contact them through:
Physical Address: Plot 32, 6th Circular Road, Cantonments, Accra.
Telephone: +233-303-932153-4/0303 932 160
Email: info@theseedfunds.com
Conclusion
Seed fund savings and loans partners with business owners to grow their businesses. They offer loans with very low interest to enable their customers to repay with convenience. They also offer a very long repayment duration that ranges from 12 months to 6 years, depending on the contract. You can seek financial aid with seed fund savings and loans to grow and expand your business today. Speaking of growing your business, you could also consider either business loan or SME loan.