Student loan Trust Fund is a financial institution that majors in offering loans to students to foster their academics. You may be a student with the challenge of paying tuition fees, textbooks accommodation, feeding, and general wellbeing. The thought of getting admission to a school with little or no financial aid scares you. This loan solves the financial problem you might have in running your school program. In this article, is the meaning of student loan trust fund, the eligibility, and how you can apply.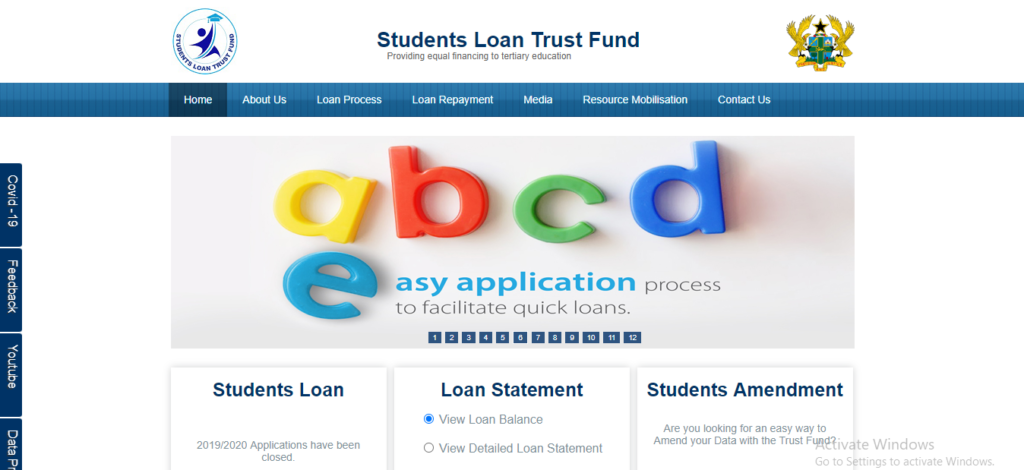 About Students Loan Trust Fund
The students' loan trust fund offers loans to students who are in tertiary institutions in Ghana. Also, it could be students who are taking programs or degrees in tertiary institutions. It must comprise students who are already on admission for undergraduate programs.
You can locate the agency at 47, 3rd Crescent Asylum Down, near Highgate hotel in Accra, Ghana. The Trustee Incorporation Act 1962, Act 820, laid the foundation for the establishment of this agency in December 2005.
Their principal objectives are to provide financial help for the proper management of the trust for the benefit of students and to help promote the national ideals of Articles 28 and 38 of the 1992 constitution. They also have offices in major institutions.
The functions of these offices include:
Provide avenues for student inquiries.
Pickup and submission points for loan application forms.
Loan application verification.
Liaise between the loan applicants and SLTF.
Disseminate essential information to students in a timely manner.
How can I become eligible for the student loan trust fund?
You must be eligible or meet the requirements for you to get any form of a loan. The programs and institutions have a higher hand in making students eligible for the loan. This is because Ghana National Accreditation Board can not vouch for all tertiary institutions in Ghana.
To access the loan, the following occurs:
They will base consideration on needy applicants.
Ghana National Accreditation Board must accredit the school, which must be a tertiary institution.
Loans are only for Ghana citizens who are residents and are schooling in Ghana.
The National Accreditation Board must accredit the programs the students offer.
Note: The borrower will only apply the loan granted from the Fund to cater for expenses, tuition fees, the cost of boarding, books, equipment, lodging, and other reasons that the borrower may need for his/her studies. You can click to get more information on other student loans in Ghana and how to apply.
How do I apply for the student loan trust fund?
Every form of loan has a way to apply for it. Apart from being eligible, it also helps you know the documents necessary for the application process. Below is how you can apply.
You'll need the following to apply for this loan:
Open an Email
Register for an e-zwich card.
Have a guarantor.
Make your registration at any SSNIT office for a social security number
Telephone number of both applicant and guarantor
You must be a student of your school legally.
A personal guarantor who is an SSNIT contributor, religious body, MMDA, or corporate body.
Two passport sizes
Note: We can also use the Social security reference number to apply for the loan.
Have you heard of student loan statements? Before you apply for a student loan, you need to read the student loan statement.
What is the interest rate of the student loan trust fund?
The knowledge of the interest rate on every loan helps you to know whether you can payback. The interest rate on the student loan trust fund is low. Besides that, they make the interest rate low so that money will be of value to the students. Inflation can contribute to the interest rate of this loan. Basically, the interest rate is 12%.
Are there additional charges for students loan trust funds?
You may wonder if there are additional charges on students' loan trust funds. Student loan trust funds do not have additional charges.
How fast can I get the student loan trust fund?
It is important to know how fast you can get this loan. This helps you know when to expect the money and place your priorities properly.
Meanwhile, applicants for student loan trust funds should expect their loans within 2 weeks. After successful submission of the completed application form. Hence, the application form for the loan must be complete and all relevant supporting documents attached to the application.
What is the right period to repay the student loan trust fund?
Getting a loan is good, but repaying it with no further charges is better. It is always advisable for applicants to pay off their loan earlier than the repayment period. This helps to prevent the interest charges attached to the loans when overdue.
How do I repay my student loan trust fund?
It is essential to know how to repay your loan after borrowing it
This helps you to make plans earlier, so you'll have enough time to repay the loan. Plans like; which means or strategy will be more convenient for you are really cool to explore.
You can make your loan repayment through:
Cash or Cheque repayment may be outright or by installment at the head office.
Repayment by cheque at the zonal offices
Monthly deduction (mandated) from the borrower's salary by the employer.
Your repayment can be at any branch of the following banks (partner) quoting clearly your Social Security Numbers (SSN):
Ghana Commercial Bank (GCB) through Smartpay
Ecobank Ghana Limited (EBG) through E-collect
National Investment Bank (NIB) with a customized students loan trust fund and pay-in-slip
Note: The condition for repayment is not dependent on whether you have a job, but it depends on exhausting the two-year grace period.
What are the various modes of repaying the student loan trust fund?
The modes of repayment of the loan make it easier and smoother for the borrower during repayment. Because of this, borrowers have various options to choose from as a means of repayment of their loans.
Note: Borrowers can go to the head office of the SLTF to make payment at 47, 3rd Crescent Avenue Asylum Down, near Highgate Hotel Accra, Ghana.
You can repay the loan through the following modes or platforms, clearly stating your Social Security Number (SSN):
By mobile money: Dial code *737*206#. Then, follow the instructions to make payment.
MyGhpay: by visiting the website: www.myghpay.com or download the myghpay app on Google Play Store.
Register or login. Click on the Students loan trust fund logo. Then, follow on-screen prompts to make your payment with your MasterCard, Visa, or Mobile money.
GT Collect: you can make payment at any GTBank branch across the country, using customized pay-in-slip.
Do you intend to study abroad? Get information on how to apply for an international student loan.
What are the sources of funds for the student loan trust fund?
Although some financial institutions might not feel comfortable sharing the sources of their loanable fund publicly. Also, they have made known the sources of their funds from which they disburse loans to students.
The sources of loanable funds for the student loan trust fund include:
Up to 10% of inflows of money in the Ghana Education Trust Fund.
Willful contributions will be tax-deductible.
Collection of resources from Ghana's international partners interested in the advancement of tertiary education.
Corporate sector contributions shall be tax-deductible. Which could be up to the equivalent of 0.5% of the company's actual profit before tax.
The loans from Social Security and National Insurance Trust (SSNIT).
Conclusion
After the stress of gaining admission into the tertiary institution. Students running undergraduate programs have financial difficulties. These financial difficulties prevent them from reaching their potential in tertiary institutions. With the students' loan trust fund, you have the financial shoulder to lean on throughout your academic years. Your tertiary education's full potential is up and running financially with this loan. No need to worry about finances anymore.