Societe Generale Loans are some of the loan options you can explore in Ghana. Societe Generale is one of the major players in local economies that take part in the financial inclusion of the population. Besides that, Societe Generale loan covers short to medium term borrowing needs. This is one of the personal loan options you could try out to solve your personal needs. As you read along, you'll know more about Societe Generale loans, their requirements, how to apply, etc.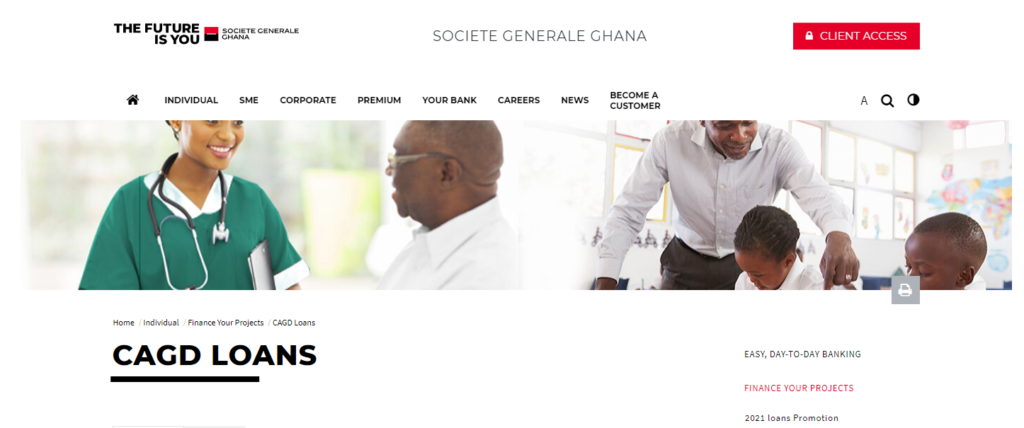 About Societe Generale loan
Societe Generale limited is a bank that is based in Ghana, previously known as Societe Generale-Social Security Bank. They founded Societe Generale Ghana in 1975 but started operations in 1977. And they have listed their stock on the Ghana Stock exchange. They know Societe Generale for outstanding loans amounting to 60 million, representing around 10% of the gap between loans and deposits of financial institutions.
Requirement for Societe Generale Loans
There are some requirements you must meet to be eligible to apply for Societe Generale loan. These requirements include:
Letter from employer
Salary slip
you must be an employee for at least a year
How to apply for Societe Generale Loan
So, having met the basic requirement for Societe Generale loans. You can apply for your loan of choice from Societe Generale list of loans through the following steps:
Fill a loan application field
Fill the relevant CAGD loan input forms
Submit for proper processing.
However, there is no delay in disbursement of the loan. They can transfer the loan into the personal account of the borrower immediately after due processing of documents.
Repayment of Societe Generale loan
After getting a loan, you should also make plans on how you're going to repay it. However, repayment of Societe Generale loans ranges from a minimum of 48 months to a maximum of 5 years. However, you can repay Societe Generale loan through installment deduction of monthly salary.
What are the benefits of their loan?
There are some benefits you will gain by trying out the loan offers from Societe Generale loans. Some benefits from it include:
Flexible repayment period
Refinancing of more expensive loans from other institutions
A very competitive interest rate
Loan amount depends on your affordability
It offers service at the comfort of your office
Conclusion
Societe Generale loan available for civil servants, military personnel and government workers in Ghana with low interest rate and affordable repayment terms. Besides that, they make this loan available to help reduce the financial problems civil servants face and aid them with finances to resolve personal needs and investment. However, prompt repayment of loans is essential as it will help to improve your credit score.