A line of credit is a type of credit that banks or credit unions often issue to borrowers. And if you qualify, you can borrow up to a certain amount for a set period. You'll only have to pay interest if you take out a loan from it. Once you repay the money you borrowed, you'll be able to borrow it again. You have complete control over when you take out the money, pay it back, and repeat. This would be possible if you adhere to the terms, which include repaying what you borrow on time and in full.
As you read along, you'll learn more about the line of credit, how it can impact your credit score and so on.
What is a line of credit?
A credit line is a revolving credit that you can use again and again. It's a sum of money that a financial organization, such as a bank, has extended to you and from which you can withdraw funds as needed. Your credit score will determine how much they will allow you to get. It varies from a loan in that you can withdraw any amount up to the maximum at any moment, rather than receiving a lump sum payment as with a loan. So, if you have a GH₵10,000 credit line, you can use GH₵5,000 to fund a new home repair project when you need it while still having GH₵5,000 available on it.
So, a bank or financial institution's line of credit is a flexible loan. It is a fixed amount of money that you can borrow as you need it. Then repay immediately or over a certain length of time. This is like a credit card that allows you a specific amount of cedis. You can use it when and how you like. Like a loan, it will accrue interest as soon as you borrow funds. And as a borrower the lender must approve you based on your credit rating and/or relationship with the bank. It's important to remember that interest rates are often changeable, making it difficult to forecast how much money you'll end up owing.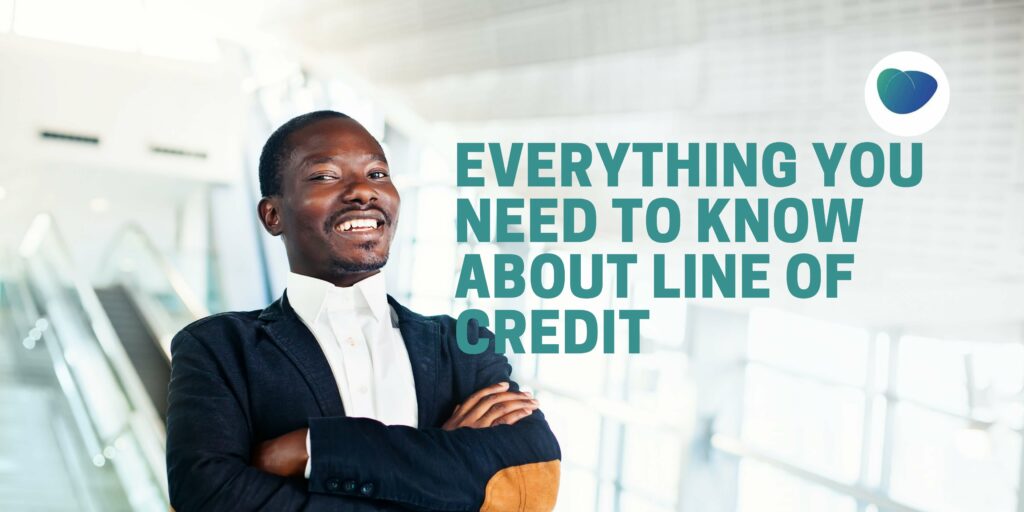 How do lines of credit work?
There are company lines of credit, but we'll focus on personal lines of credit here. Personal lines of credit are normally unsecured, which means you don't have to put up any collateral to get one. Secured lines of credit are secured loans that are backed by assets such as your home or a savings account. Better credit ratings may help you qualify for a lower annual percentage rate when applying for a line of credit. Some lines of credit have fees, such as an annual charge, and limits on how much you can borrow.
After they've approved you for it. You'll have a specific time frame during which you can withdraw funds from the account (known as the "draw period"). A draw phase can last a long time. When you're ready to borrow money, the bank may issue you special checks or a card, or transfer the funds to your checking account.
When you borrow money from it, interest typically accrues. So, they'll require you to make minimum payments. And this is the amount of which they'll remit to your available line of credit as you make them. When your draw period finishes, though, you'll enter the repayment period, during which you'll have a specific amount of time to pay off any outstanding amounts. Keep in mind that making merely minimum payments may end up costing you more in the long run in terms of interest.
Where can I get a line of credit?
You can apply for it at a financial institution such as a bank or credit union if you need one. You'll want to browse around for the greatest deals and make sure you're aware of any restrictions or qualifying requirements. So you could be able to secure several thousand cedis or more of it. Check your credit report before applying for it at the bank. Credit bureaus use the information in your credit report to calculate your credit score. So you want to double-check that everything is in order. You have the option to contest any mistakes.
Ways a line of credit impacts your credit scores?
Your credit score informs a lender about your creditworthiness and can influence the size of your credit line. You can apply for it after reviewing your credit. The financial institution will approve you for a particular amount. And a draw time during which you can use money from it once they've approved you. The duration of the draw varies, although it might last up to several years.
The financial institution may provide you a special card or checks once they've accepted you and are ready to draw money from your credit line. In other circumstances, they may transfer the money to your checking account by the banking institution.
Interest will accrue when you borrow from it, and you will make payments. Your available credit from your credit line will increase as you repay it.
The lender may conduct a hard inquiry on your credit reports as part of the application process for it. It's possible that your credit scores will drop a few points because of this. When they approve you and you accept the line of credit, it usually shows up as a new account on your credit reports.
It is possible to minimize your credit usage rate and boost your credit scores if you never use your available credit or only use a small fraction of the total amount available. Your usage rate shows how much of your available credit you are using. If you borrow a large percentage of the credit, your utilization rate will rise, lowering your credit score. In addition, if you make late payments, your credit score may decrease.
What are types of lines of credit?
They come in different forms, and they include;
1. Secured lines of credit
They back secured credit lines by an asset that serves as collateral, such as a car or a home. They do not back unsecured credit lines, such as most credit cards, by any collateral.
A Home Equity Line of Credit, sometimes known as a HELOC, is a popular type of credit. A HELOC allows homeowners to borrow money against their home's equity. Because you use your home as security for it. They refer to it as a secured credit line. If you need a secured line of credit, a home equity line of credit, or HELOC, is one alternative. HELOCs allow you to borrow money against the value of your property and use it as collateral for a line of credit. They usually have a variable interest rate, so your payments may go up.
In most cases, the bank will limit the amount you can borrow to up to 85 percent of the appraised value of your house. This doesn't include any outstanding debt on your first mortgage. Banks consider other characteristics, like your credit history and income, when determining your interest rate. If you don't own a property and don't want to put your house up as collateral, you might get it secured by a savings account or certificate of deposit.
2. Unsecured lines of credit
If you default on an unsecured line of credit, you may not lose your home or money. However, with unsecured loans, the lender is taking on more risk, which could cause higher interest rates than with a secured line. Each unsecured line of credit has its own set of terms. The limits might be in the thousands to hundreds of thousands of dollars. Some of them come with fees. For example, you may have to pay an annual charge just to keep your account active.
Other types of unsecured lines of credit, such as some personal ones, do not require any assets as security. But they may charge fees, such as an annual fee or upfront expenditures to open the account. You may use one to pay for school tuition, automobile upkeep, or a business-related project. As long as you know you'll repay the loan.
The difference between a credit card and a line of credit
Lines of credit are like credit cards. Both are revolving, which means you can borrow money up to the credit limit. After that, you pay it back (plus any interest) and borrow it again. Credit cards and lines of credit are also two distinct products lenders offer. Besides that, there are some significant variations between them.
There is no draw period with credit cards; you can use them as long as the account is open and in good standing. Many have rewards programs, and if you can pay off your debt in full each month and your card has a grace period, you may avoid paying interest entirely. This means that, if used appropriately, credit cards may be a better alternative for everyday expenditures.
The disadvantage of credit cards is that they may have higher interest rates than lines of credit. So carrying a balance on one may cost you more money. They may also have lesser credit limits than personal lines of credit. And if you wish to take out cash with a credit card cash advance, you could face exorbitant costs and APRs.
When you shouldn't use a line of credit
If you know you won't be able to make payments or your income is uncertain, a line of credit may not be the best option. If you don't pay your bills on time, your credit will suffer. Besides that, the lender may take control of the collateral on a secured line of credit.
Depending on your creditworthiness, you may get an unsecured personal loan with better rates than an unsecured line of credit if you know exactly how much you need and don't want to use collateral.
If you're using it to pay for necessities or short-term spending like dining out and vacations, it could be a sign that you're in financial trouble and shouldn't take on new debt.
When to use a line of credit
A HELOC or secured line of credit may be an excellent idea if you need money for a home renovation project. Also for college expenditures, or other enormous expenses as long as you know you'll return it. Bonus: You may tax-deduct the interest you pay on your HELOC.
An unsecured personal line of credit may help you consolidate several small debts you're paying off into one payment. This gives you a lower APR, while avoiding using collateral. And this depends on the terms of each of them and your creditworthiness.
The comparison of lines of credit to other types of borrowing
There are many resemblances between lines of credit and other types of borrowing, but there are also several key differences that borrowers should know. They include:
1. Credit Cards
Lines of credit, like credit cards, have borrowing limits. They can approve you to borrow a particular amount of money and no more. Also, similar to credit cards, regulations for exceeding that limit differ by lender. Although banks are less likely than credit cards to allow overages right away. Instead, they often look to renegotiate the line of credit and increase the borrowing limit. They essentially pre-approved the loan, just like with cards. And they may retrieve the money whenever the borrower wishes, for whatever purpose. Finally, while both credit cards and lines of credit incur annual fees, neither charges interest unless you owe an outstanding amount.
You can backup lines of credit with real estate and this is unlike credit cards. Home equity lines of credit (HELOCs) were immensely popular with both lending officers and borrowers prior to the housing meltdown. While HELOCs are becoming more difficult to get, they are still available and have lower interest rates. They'll always require minimum monthly payments on credit cards, and if you do not make those payments. The interest rate will skyrocket. Lines of credit may or may not have comparable criteria for prompt monthly payback.
2. Loans
A line of credit, like a regular loan, needs good credit and return of the monies borrowed. Besides that, it also involves charging interest on any funds borrowed. Taking out, using, and repaying a line of credit, like a loan, can help a borrower's credit score.
A line of credit, unlike a loan, is for a fixed amount for a specific time. It also has a repayment schedule they have predetermined. Besides that, it has more flexibility and, in most cases, a variable rate of interest. When interest rates rise, your line of credit will cost more, whereas a fixed-interest loan will not. There are usually fewer limits on how you can use the cash you borrowed under a line of credit. For example, you must use a mortgage loan to purchase the property you listed. And your auto loan to purchase the vehicle you specified. Whereas a borrower can use a line of credit for whatever he or she desires.
Finding the finest location to borrow money if you determine that a loan is the best option for you can be stressful, especially if you have a financial emergency and need money quickly. Accessing cash quickly may appear even more difficult for those with less-than-ideal credit. Fortunately, even if you have credit concerns, there are a range of emergency loan options available to you.
3. Payday and Pawn Loans
Although there are some apparent similarities between lines of credit and payday and pawn loans. This is because many payday or pawn loan borrowers are "frequent flyers" who borrow, repay, or extend their loans. And they do this regularly, also paying very high fees and interest along the way. A pawnbroker or payday lender is carefree about what a borrower does with the money. As long as the borrower repays the loan and all other costs.
The differences are significant. The cost of cash for anyone who qualifies for a line of credit will be far lower than a payday or pawn loan. Similarly, the credit evaluation process for a payday or pawn loan is more simple and less demanding. So there may be no credit check at all, and you get your funds much faster. Payday lenders and pawnbrokers rarely offer the enormous sums of money that are frequently accepted in lines of credit. Banks rarely deal with credit lines as short as a typical payday or pawn loan.
What are the pros and cons of lines of credit?
Just like every other form of loans, lines of credit also have their pros and cons.
The following are the pros of lines of credit:
You can only borrow only the money you need.
They have flexible repayment options.
You'll have constant access to funds.
Where the ultimate costs are variable, it becomes ideal for long-term projects.
May draw up to 100% of credit limit without restrictions.
The following are the cons of lines of credit:
If you default on your payments, the lender may seize the collateral that secured the loan.
The variable rate on the line of credit also increases if interest rates increase.
Annual/monthly maintenance fees regardless of use.
It may be difficult to forecast the amount of interest they charged.
Requires a good credit score to qualify.
Conclusion
If you need money, you might be curious about the options available to you. While there are loan options, such as SME loans to expand your business. There are other loan options you could get from financial institutions to meet your needs. So you can apply for a line of credit from financial institutions around you. It can offer you access to the capital you need and could be a flexible option to consider. If you require it, ensure you can repay it. Know how much interest you might pay over time and what the lender's terms and conditions are. If you can handle money responsibly, borrow wisely and can pay it back. Then it could be a viable funding choice for you.