Udu loans are among some of the loan offers you can consider in South Africa. You could need an instant loan which you could receive in your bank account immediately in order to meet your pressing needs. However, it is how efficiently you handle these emergencies that matter the most. There are a teeming number of platforms offering financial emergency service (loans) and Udu loan is one of the most efficient of them all.
In this article, you'll learn more about Udu loans, their requirements, how to apply and so on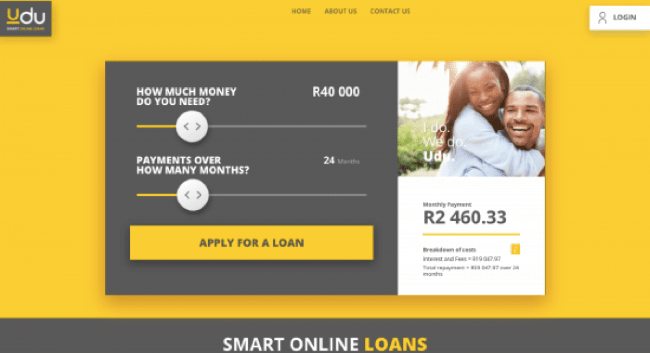 About Udu loan
Udu affiliates officially to Transaction Capital Recoveries Ltd. The company is an authorized financial Service provider who manages and administers Udu Personal Loans on behalf of MBD Legal Collections (Pty) Ltd, a registered Credit Provider NCRCP1891.
Udu Loan has its headquarters at 342 Jan Smuts Ave, Craighall, Randburg, 2024. Prospective clients who preferred offline and physical consultation can always visit as they are operational 24hrs.
Requirements for obtaining Udu financial loan
Just like every other responsible lending platform, it is important for prospective clients to satisfy a couple of criteria to be eligible for the loan they might apply for. Some of these criteria includes;
Prospective clients must be at least 18 years.
Clients must be a citizen of South Africa
Must provide a full proof of residence
Must provide a valid passport.
It is important to know that Udu loans allow 60 months in terms of loan.
What is the minimum and maximum amount of loan that I can borrow?
Situations occur where you need a particular amount of loan without knowledge of the minimum or maximum amount the lending platform offers. For Udo loans, they offer a minimum of R4000 payable within 12 to 60 months, depending on the contract agreement reached during the application process.
With a maximum amount of up to R150,000 also payable within 12 to 60 months depending on the type of loan and the agreement reached during the application process.
How to apply for Udu loan
Now that we clearly understand a few facts about this high performance lending platform, it would be nice to look at how easy and convincing the application for a loan from the financier Udu loans.
Loan applications can be offline. This medium involves visiting their headquarters with the required documents listed above. After physically filling and submitting the application form, they might ask a few questions just to double check your eligibility. Scale through this process successfully and consider yourself a worthy loan benefactor.
The other application process is the most common and easiest medium of application. This process involves the following actions;
Visiting their official sites at https://www.udu.co.za
Create an account
Use the online to select the amount and terms.
Fill the form with required information correctly.
Submit and wait patiently.
With an Udu loan, they attend to applications immediately and they send feedback within 24hours.
Types of loan Udu offers
The repayment span and interest rate to be charged solely depends on the loan given. Given this, it is important to know the exact loan that best suits your purpose. We list some loan product Udu financiers offer below;
Instant Loans
Online Loan Application
Payday Loans
Personal Loan
Quick Loan
Student Loans
What is the interest rate for an Udu loan?
Before applying and getting a loan of any kind, it is important to get a brief knowledge of the platform. One of the most important detail to take into consideration is the company's interest rate. However, the interest rate on an Udu loan ranges between 41 to 94% per annum.
How fast do they release Udu loan funds?
One benefit of dealing with an Udu loan is that they know the urgency of your application. For this reason, you can get your funds within 24 hours.
Benefits of taking an Udu loan
If you must take a loan, enjoying the best deals and loaning experience won't be such a bad idea, would it? Below are a few benefits that come with taking up a loan with Udu financiers;
No penalty interest to pay on interest on your bank statement.
You get to save more because there are no additional banking fees when they deduct monthly instalment amount from your salary.
24/7 customer service ready to take your calls and attend to your needs.
App review
Udu loan app took out time to ensure customer convenience when they use their app. Optimizing the app with the most recent technology. Udu mobile app has one of the most task efficient apps there is.
A rating of 4 stars from 410 votes is clear evidence of customer satisfaction during the usage process. Available on all app stores, download and have a great user experience.
What are the contact details of Udu loan?
For more enquiries, you can contact Udu loans through:
Address: 342 Jan Smuts Ave, Craighall, Randburg, 2024
Email: enquiries@mbd.co.za
Hotline contact number: 086 099 9221
Website: https://www.udu.co.za/
Conclusion
Finally, the company has made all necessary efforts to optimize its service both online and offline to fit their customers' needs. This is to ensure accessibility for the South African public. However, getting a loan is much safer when experts handle all the processes involved. However, repayment of the loan you get is essential in order to keep your credit score in a perfect condition. So that you can access another loan in the future.