Financial expenses become too much to handle. When you are in this kind of situation, the only option left for you would be to get a loan. Various forms of loans are available in financial institutions. There are types of loans such as; long-term and short-term loans. Some financial institutions would not give you a loan if your credit score is not good. The requirements, maximum and minimum loan amount, and other information about Cobol loans are all-inclusive in this article.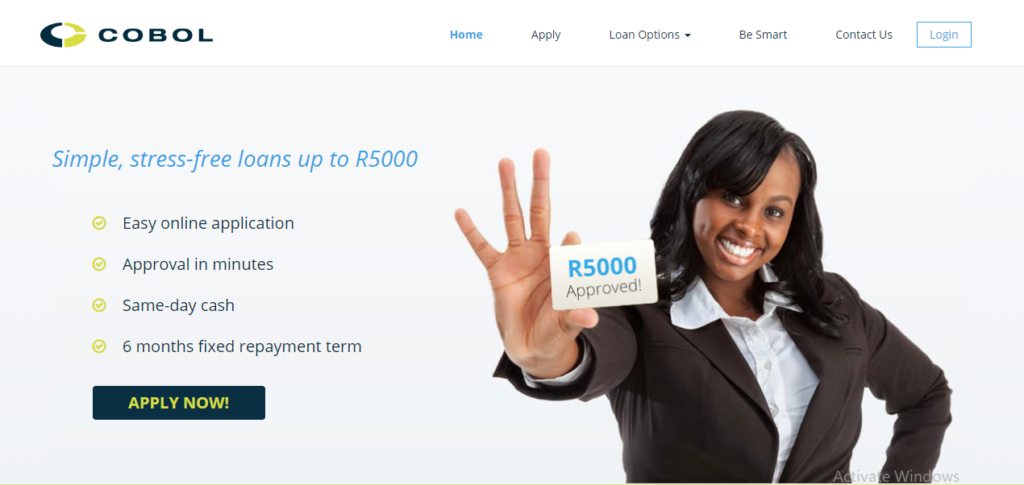 About Cobol loans
They established Cobol loans in 2006. They are the services that Cobol Finance provides in South Africa. Over 1000 customers trust Cobol for their safe financial help.
The instant loans that Cobol offer are best used for unforeseen expenses.
They abide by the regulations of the National Credit Regulator. Cobol loans lend money responsibly to their customers so that the customers won't have a problem in paying back.
They are simple and stress-free. It is available online to South African citizens every day. The loans are quick and convenient for customers against times of financial difficulty.
What are the requirements for Cobol loans
For every form of loan, there are always requirements to meet to get access to the loans.
The following are the requirements for Cobol loans:
Be a South African citizen
Have a permanent employment
Earn at least R3000 per month
Be 18 years to 65 years
A good credit rating
Possess an active email account;
Present your phone number and debit card details
Proof of residence
Provide your 3 months payslips or bank statements
What is the maximum and minimum amount of loan I can get from Cobol loan
You should know whether a particular financial institution offers the amount of loan you want. Therefore, it is important to know the minimum and maximum loan amount you could get. However, for Cobol loans, the minimum amount of loan is R250. While the maximum amount of loan is R5,000 for their new clients and R8,000 for their returning clients.
How will I know if I'm qualified to apply for Cobol loans
You might not know if you are qualified to apply for the loans. However, in order to be sure of that, just:
Input your South African Identification number
Choose a password for your account
One of their friendly consultants will then call you and let you know if you qualify. They will also let you know how much you're qualified to get.
How can I apply for Cobol loans
Now that you have seen whether you are qualified for Cobol loans. All you need to apply for Cobol loans is your smartphone, tablet, or personal computer. The application process for Cobol loans online is easy. Let's see how you can apply for the loan.
The following is how you can apply online:
Select the amount of loan you want and the duration on our calculator
Immediately you have selected the amount of loan you want, then click "Go to Site."
New clients have to sign up by entering their Identity number, then create a password.
Type in your phone number. You will then receive a one time pin that you will input on the site.
Thereafter, enter your name and address
Then input your employment information, including your employer, salary, and their number.
The site will then provide a quote via email. You can now accept or decline the quote. If you are okay with the loan offer, you can continue with the application.
Note: In a few minutes you will know whether you qualify for the credit of Cobol. Once you accept the offer, they will pay the money into your account on the same day.
Check out other related articles of online loans in South Africa
What is the interest rate of Cobol loans
Borrowers should always know the interest rate on the loan they desire. Many borrowers compare the interest rates on loans among financial institutions. This helps them to know whether they will pay back the loans with no further issues. The interest rate on Cobol loans is 3% with an Annual Percentage Rate between 124% and 212% per annum.
Read more to learn how to use a personal loan calculator.
How fast can I get Cobol loans
Financial needs wouldn't give you all the time you need to get things done. Therefore, the knowledge of how fast you can get a loan is really important. They have its approval within minutes and the same day (within 24hrs).
What are the repayment terms of Cobol loans
Borrowers and lenders always have an agreement on when and how the repayment will go. Cobol loans have a repayment term from 1 month to 6 months.
How do I keep track of my repayments
Some borrowers might have a problem accurately keeping track of the repayment of their loans. Loans from Cobol make it easier for such borrowers. Cobol Finance helps the borrowers know how much they have paid and how much they still owe. They do this by providing mini statements on a monthly basis and a full statement every 3 months.
Are this loans safe
You might wonder whether it is safe to get a loan from Cobol Finance. Cobol Finance is a legal credit provider in South Africa. Therefore, you don't have to worry about legality matters. They abide by the rules and regulations put in place by the National Credit Regulator.
What are the pros
Applications can be of the day
The online application guidelines for Cobol loans are easy to follow and they credit you immediately they approve you.
What are the cons?
You can only get Cobol loans if you are a permanent employee
No loan for you if you have a bad credit score.
Cobol loans contact details
| Telephone: | 021 421 8811 |
| --- | --- |
| Email: | clientcare@cobol.co.za |
| Fax: | 086 668 7572 |
| Physical address: | Level 2 Block A, The Vineyards 1 Devon Valley Road Stellenbosch, 7600 |
| Postal address: | PO Box 2961, Cape Town, 8001 |
Conclusions
Many borrowers won't be borrowing if all is financially well with them. They take the risk of securing some of their loans with their houses, vehicles and other assets. One of the major reasons they take this risk is to solve unforeseen circumstances that come their way. Loans from Cobol are fast to get. All you need to secure a loan from Cobol Finance is just your smartphone, tablet, or personal computer.