In this post, we look at how to transfer money from M-Pesa to a KCB account. To be the preferred provider of financial solutions in Africa with global reach, KCB strives to drive efficiency while growing market share.
In order to understand how to transfer money from M-Pesa to a KCB account, let us first review KCB mobile banking.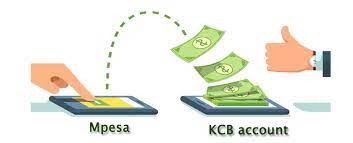 KCB mobile banking
To start with, you will need to open an M-Benki account to access a host of mobile banking services from the bank. In offering this service, the bank primarily aimed to give customers control of their funds and financial plans.
Through M-Benki, Kenyan commercial banks are able to earn interest, offer loans on flexible terms and transfer funds to other banks and mobile wallets. 
About M-Benki
M-Benki offers users the convenience of checking their bank balances, bank statements, and buying credit right from their phones. You can do the following with M-Benki:
It is possible to transfer money to other KCB banks
There are banks other than KCB where you can move your funds
Money can be deposited into and withdrawn from M-Pesa
No matter what network you use, you can easily buy credit.
Opening a KCB- M-Benki account
Navigate to the M-Pesa menu on your phone toolkit, if you are not a customer of KCB bank
Choose payment services, then pay bill. Put KCB paybill number 522522 in when prompted with a business number.
Select the account, then enter "ID" accompanied by your ID number in the format ID23456789.
Indicate the amount of money that you intend to deposit.
Upon completion, enter your M-Pesa PIN to authorize the transaction
A short message with your user ID and your personal identification number will be sent to you, and a second message with your M-Benki account number.
Note: Existing clients can register for m-banking at their nearest KCB bank.
How to withdraw cash with a KCB M-Benki account
In case of an emergency involving an expired ATM card or immediate financial needs, you don't need to worry about forgetting your ATM card. You can withdraw cash at your nearest KCB ATM by using '555555' as the agent number.
How to transfer money from M-PESA to a KCB account
Go to your M-PESA menu,
Choose Lipa na M-PESA,
Enter the PayBill number 522522,
Enter the KCB account number you are transferring money to and the amount
To send money, enter your M-Pesa PIN and confirm.
How to withdraw money from KCB to M-Pesa account
Here is a comprehensive guideline on how to transfer your funds from KCB to M-Pesa. They are:
To start a transaction, dial *522# in your phone and enter your M-Benki secret PIN
Select MyKash from the pop-up menu, then M-Pesa.
M-Pesa grants multiple choices to send money, either to your phone or any other
As you proceed, enter any amount you wish to transfer, provided it does not exceed fifty Kenyan shillings or KSh. seventy thousand.
When you enter an amount, the system displays the cost of the transaction along with the amount you entered
Accept and complete the transaction if all is well
The amount deposited to your account will be notified to you via SMS.
How to Open a KCB M-BENKI Through M-Pesa
Go to M-PESA menu
Choose Lipa na M-PESA
Select Paybill and enter Paybill number 522522
Under account, type ID(No Space) and your National ID Number e.g ID123456789
Enter the amount to deposit, and your M-Pesa PIN.
You will receive two SMS's, one with your KCB M-BENKI Account number and the other with your temporary PIN.
Sending money from M-Pesa to KCB charges
For all deposits made via Mpesa to KCB, there is no charge from KCB. Sending money through Safaricom M-Pesa, however, will incur a fee. Moreover, the charges below are applicable:
Dialing on to KCB Mobi Bank via USSD is charged by your mobile phone subscriber. Safaricom subscribers pay Kshs. 2.
Balance enquiry is charged at Kshs. 33
Mini statement is charged at Kshs. 33
Forex rates are free.
Airtime purchase for own phone and other phone is free
M-Pesa transfer from KCB account to M-PESA is Kshs. 55
Mobi Loan and Kopa Bill Loan are charged an interest of 6%
Salary Advance is charged an interest rate of 8% per month.
Note: To deposit money to KCB via Mpesa for free (without paying the Mpesa transaction charges), open a KCB M-Benki account (which is opening a KCB account through M-Pesa).
How to purchase airtime via KCB App
Open the KCB App icon
Select Transact
Choose Airtime
You can purchase for own phone or pick recipient from contact list
KCB M-Pesa contacts Kenya Commercial
In case you want to reach M-Benki client mind centers, apply the following contact information.
Short Message: 22522
Mobile: 0732 187000 or 0711 087000
Facebook: KCB Bank Group and
Twitter: KCBgroup
Conclusion
The mobile money transfer industry is probably one of the fastest-growing service industries in America. Given its mobility and adaptability, several banks, like KCB, have adopted the concept. Interestingly, it is now possible to transfer funds from M-Pesa to KCB locally.
See also: Recovering loans and Credit note