It is of utmost importance that when considering a financial institution to do business with, consistency and reliability are key. However, for your personal emergency loans or looking for instant loans through PesaPap wallet, Family Bank loan is here to serve you better.
We will take you through family bank loans, and their app called PesaPap.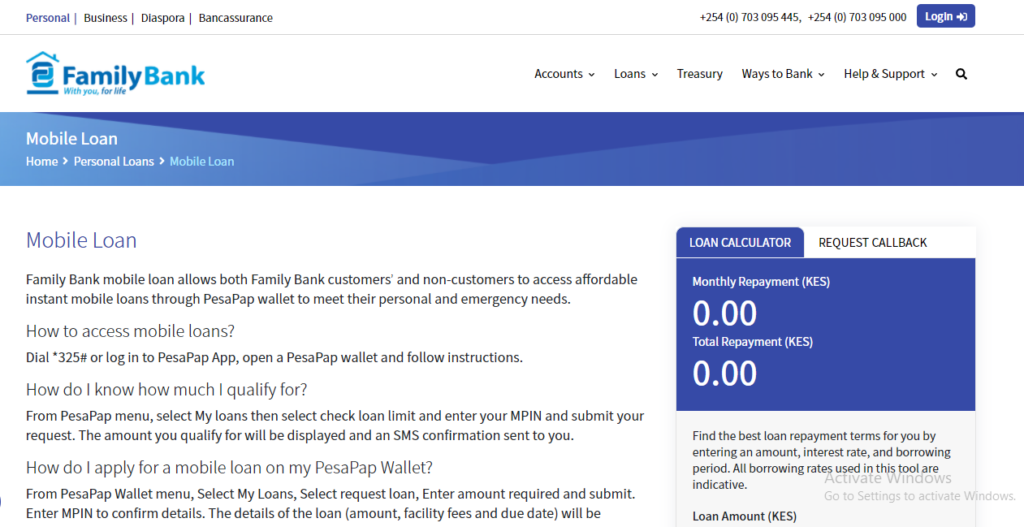 Family Bank's Background
Family bank is a common name for family bank limit (FBL). It is a commercial bank and licenced by the central bank of Kenya and national banking regulators in May 2007. It has 92 branches nationwide.
In addition, family banks protect customers' deposits. It is a member of Deposit Protection Fund (DPF) and goes further on the adoption of universal banking models. Devolves into a system of romping in more customers and clients. It has a mobile app called PesaPap.
PesaPap loan amount eligibility
To know your PesaPap loan eligibility, follow the procedure;
Go to the PesaPap app
Select the loan options
Check loan limit
Enter your M-pin
Hit the submit button 
They will display the loan you are eligible for you.
Maximum repayment period.
The maximum term repayment is 30day
How to apply for Family bank loan 
To apply for a loan from your PesaPap app. Follow the procedure:
Choose loan options and select request loan
Enter the amount you need and submit
Input your M-pin to confirm details
They will display the details of the loan for you
Interest rate for loan on PesaPap?
The interest rate on PesaPap loan is 6.62%
Opening PesaPap wallet
To open PesaPap wallet, first:
Download the app on Google play store
Select open wallet account
Follow instructions and supply all necessary information
The phone number you will enter will be your account number
Requirements for opening PesaPap wallet
The details required for the PesaPap wallet account opening are:
Your full name
ID number
Your mobile phone number
PesaPap App
It is an app built by Family bank. They use it for loan applications and accessing other products they offer. When you apply for a loan with the app, they directly pay it into your PesaPap wallet.
Features of PesaPap App
The features of the app range from:
Memory capacity is 6.1m
It has over 500k + download on google play store
4,813 reviews on Google play store
The app is interactive and refreshing
How to withdraw money from Family bank
Dial USSD Code *325#
Login with your details
Select M-Pesa or enter any of your bank account no
Choose Family Bank to M-Pesa or account no
select 'to own number'
Complete the transaction details and submit.
You will receive notification from M-Pesa or your bank.
USSD code for Family bank loan
The USSD code for family bank loan is *325#. Dial *325 and follow the prompt.
When do I qualify for my next PesaPap loan
You go for a new loan once you have cleared your outstanding loans and not default.
How fast are funds released
It is a quick loan and funds are released as soon as you meet up with the requirements and loan approved.
Repayment terms for Family bank loan
PesaPap loan can be replaced in two ways:
Full repayment and
By partial repayment
Full repayment
You can repay the total outstanding loan at once or in full.
Partial repayment
This involves installment repayment over the 30-day loan period
Repayment procedures using M-Pesa
Select M-pesa toolkit on your Mobile phone.
Choose Lipa or M-Pesa.
Input the Pay Bill option and enter PesaPap Paybill number 222111.
Type in your phone number in the account number column.
Type the amount you wish to repay.
Enter your M-Pesa Pin number and click Ok to repay.
You will receive a notification from M-Pesa.
How to contact family bank loan
To contact the family bank, reach out to their 24-Hour Contact Center on +254 (0) 703 095 445 or +254 (0) 703 095 000. You can also visit any of their branches and speak to a Family Bank representative.
In addition, you can also choose to email them at: customerservice@familybank.co.ke
Conclusion
Family Bank mobile loan gives you leverage through its app PesaPap to apply for loans. Customers' and non-customers can access for affordable instant mobile loans. Get a loan today and averagely little interest.