We can solve the financial challenges we have with the help of a loan. We need loans when we do not have enough money to cater to our needs. There are long-term and short-term loans you can get in Ghana to meet your needs, depending on your repayment capabilities. Information about Best Point loan, its features, requirements, types and so on are all-inclusive in this article.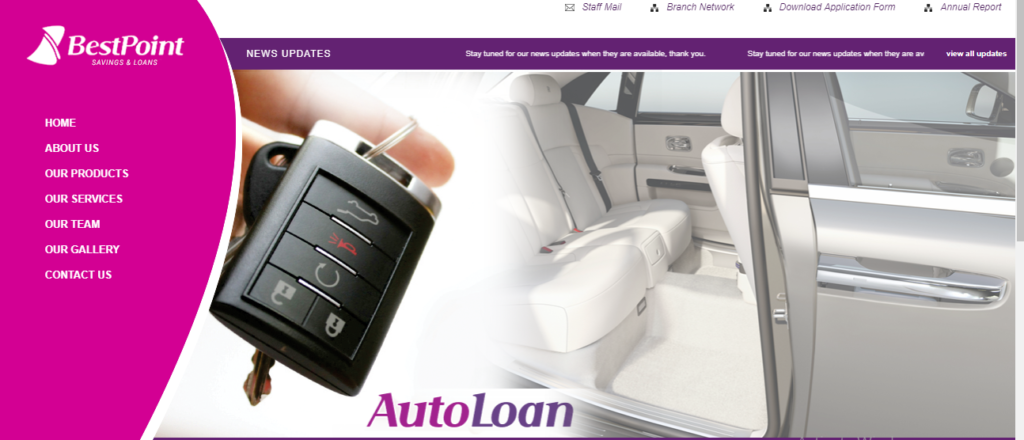 About Best Point savings and loans Ghana
Best Point Savings and Loans Ghana is a financial institution in Ghana that offers savings and loans services to Ghana residents. It is owned by Ghanaian Company incorporated under the Companies Act 1963 (Act 179) on September 4th 2012. It initially bears 'Lucky Savings and Loans Limited'. They later changed the name on January 29th, 2013. They issued it with a certificate to begin business on October 8th, 2013. Also, they have a license by Bank of Ghana under non-bank financial institutions Act, 2008 (Act 774). We basically know them for their unique financial solutions in terms of savings and loans services.
Types of loans Best Point savings and loans offers
Just like every other financial institution in Ghana, Best Point offers various types of loan to benefit their customers. These types of loans are regarding the purpose for the loan, they include:
Auto Loan
This is a short to medium term loan by Best Point for the purchase of commercial and private vehicles.
Features of the Best Point Auto loan include:
Auto loans have a minimum deposit of 20%-50%.
You can use it for new or used vehicles (up to 5 years).
The term is up to 60 months.
Prospective applicants must not be over 55 years.
The applicant must be the user of the vehicle.
Vehicles must have insurance.
It has a competitive interest rate.
Life insurance cover for permanent disability and death.
It has fewer procedures.
Also involves quick turnaround time.
Requirements for Best Point Auto loan
Driver's License
Two guarantors
A valid national ID
A minimum of two years driving experience
Note: Non account holders must meet up with the account opening requirements.
Salary Loans
They make this loan available for employees of both private and public sectors. Best Point salary loans also include private company employees, employee loan schemes, and public or government payroll employees.
Features of Best Point Salary loans
You must be a confirmed staff.
Applicants must be in the age bracket 18years to 55 years.
The term is up to 36 months.
They offer a debt service ratio of 40%.
They have a competitive interest rate.
Less cumbersome procedure
Requirements for Best Point Salary loans
Pay slip of the last three months from the month of application.
A valid National ID and Staff ID.
One guarantor.
Undertaken by the employer.
You must route salary through BPSL where applicable.
They may require security.
Church Loan
This loan is for financing church projects like renovations, new buildings, vehicles and other church equipment.
Features of Best Point church loan
It is for multiple purposes.
Involves fewer procedures.
It has a competitive interest rate.
They tailor the repayment terms.
Term is up to three years.
Documents bearing church registration.
Bank statement of at least six months.
They may require a church constitution.
Requirements of Best Point church loan
Resolution from the Board of the church.
They may require security.
Financial statements of the church.
SME Loans
These involve short to medium-term loans for Small and Medium Enterprises. It helps people to meet varying financing needs, including asset acquisition, business expansion, working capital, projects, manufacturing, commerce and so on.
Features of Best Point SME Loans
It has fewer application procedures.
Flexible amounts for all levels of businesses.
The term is up to five years.
It also has competitive interest rates.
The repayment terms are flexible.
Requirements of Best Point SME Loans
Identity and proof of address.
Board resolution.
Identity and proof of address of directors of the business.
Documents bearing company registration.
Financial statements for at least 36 months.
They may require security.
Note: Non-customers they may require a six months bank statement.
How to apply for Best Point loans in Ghana
Applying for a Best Point loan is very easy, unlike some financial institutions in Ghana. You apply through the following means:
Download the application form from their website.
Fill the required field correctly.
Attach documents
Submit application
How long does it take for loan disbursement with Best Point?
After successful application, the processing begins immediately. They disburse funds as soon as they approve your application.
What are the repayment terms of the Best Point loan?
Loans come with repayment terms. This is a term that both the borrower and the lender agree upon. This clearly states when the borrower must begin or complete the loan payment.
The Best Point repayment term or period could be up to 60 months, depending on the amount of loan.
What are the benefits of a Best Point loan?
It is good to consider the pros of a loan before applying for it. It helps you feel more comfortable in making your loan decisions.
The benefits include:
It is available to customers with an account and people with no account.
Satisfying various needs.
Finance of up to 60% of cost of items needed.
Auto loan at your doorstep.
Flexible security requirement.
Low interest rate.
Conclusion
Best Point loan Ghana is that trusted financial institution that specializes in originating and servicing loans. This loan comes with a long-term repayment period, online application and so on. Best Point loan covers your home needs and other financial requirements. However, you do not have to worry about those financial setbacks when you remember your financial status. Best point loan Ghana is already here to take that burden off you.