Banks decline home loans for major reasons and we will be discussing them briefly in this article. The question " why do banks decline home loans" has been lingering for a while now. Being turned down for a home loan is not an enjoyable experience. Especially when you're in dire need of a proposed amount. Well, the good news is, this article answers the unpopular question ' why do banks decline home loans ". We can prevent this unfortunate situation from ever happening or repeating itself.
Before applying for a loan, it is important to note some key factors to help you through the process. Knowing the few reasons banks might reject your loan puts you a step ahead of the process. Therefore, we have taken our time to put together a list of reasons banks reject home loans.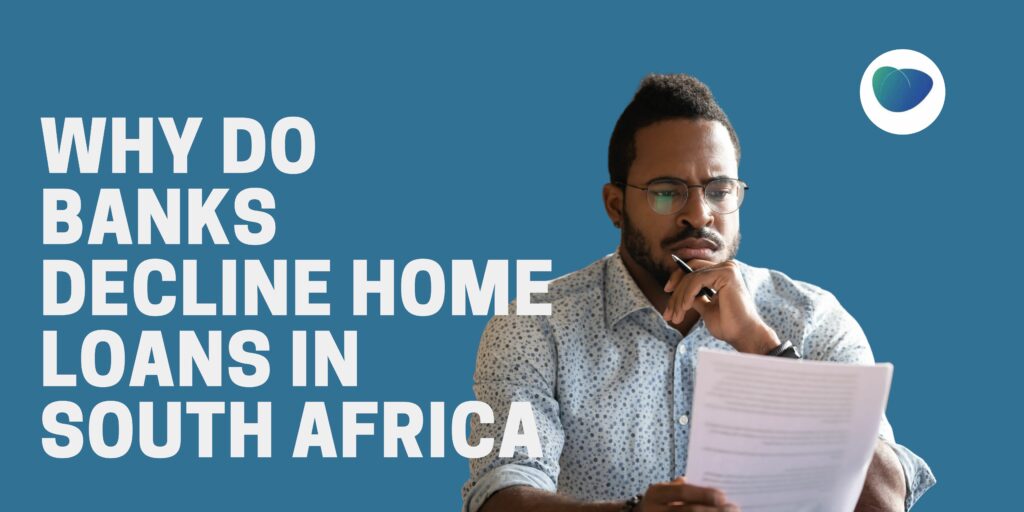 5 major reasons banks decline home loans in South Africa
Here are some of the reasons banks reject home loans and some of the solutions to the problems
1. Affordability
When it comes to loan approval, affordability is one of the most important factors. The National Credit Act measures affordability in terms of net disposable income. In order to determine affordability, the applicant's gross income, net income and fixed monthly expenses will be considered.
Legally, some financial institutions may decide not to grant a home loan in certain situations. One of the major situations is when the applicant's monthly repayments will exceed one third of his or her net monthly income. When determining whether a loan can be afforded, financial institutions also consider applicants' current debt repayments.
Solution
Be sure to check a few things before applying for a home loan. It is advisable to reduce current debt whenever possible. In addition, potential homeowners should be realistic in deciding what price range they can afford.
2. Debt Review / Under Administration
The National Credit Act prohibits financial institutions from extending credit to applicants under review. Violation of this principle is a serious offense and can result in harsh penalties for such institutions. By contravening these principles, financial institutions are guilty of reckless lending.
If you are under debt review, banks and other credit institutions will definitely not consider your application for a home loan.
Solution
Before applying for a home loan, be sure to settle all your existing debts. Similarly, clearing your debt review records afterward is very important. If you have been under review, then there will be a waiting period of a year after rehabilitation. It is after this phase banks will assist you with a home loan.
3. Credit History
The credit history of the applicant is also a major factor when it comes to assessing a home loan application. Your credit score will not only affect the approval of your home loan, but may also affect the deposit requirements and interest rate charges.
Solution
Homebuyers should know the contents of their credit reports. If you want a clean credit report, make sure you pay your bills on time regularly. You will have a better chance of obtaining a home loan if you do this.
Former defaulters on any debt repayments should also ensure they settle their accounts and clear their names with the creditor. For more information on having a judgment removed from your credit report, contact an attorney.
4. Loan to Value too High
You may still be turned down even if you have a great credit record and sufficient disposable income. This usually occurs when the market value of the property is less than the loan application. The financial institutions must ensure that they have sufficient security for the requested loan. This safeguards potential buyers from overpaying for the property.
Solution
Avoid areas where property values are stagnant or declining. There is an option if you have a prime interest in a property whose market value is more than its selling price. Alternatively, you could increase the deposit, thus reducing the loan-to-value ratio.
When you do not have money saved up for a deposit, you can consider taking out a personal loan. Note that a personal loan would also count as another expense, and could also lower your affordability.
5. A botched application
This is the most basic, yet most common mistake loan applicants make. If the applicants cannot handle their loan applications correctly, they make this mistake. Leaving sections of the application unfinished, entering incorrect information, or failing to include the required documentation contributes to this mistake.
Solution
It is also important to take out time to read on how to write a proper loan application before applying. A great application letter shows confidence and efficiency, and this might improve your chances.
How can I make sure my home loan is approved?
You can make sure your home loan is approved by following the following steps stated below. A house purchase is already stressful, and being unprepared increases the pressure. Why would you want to go through this? Become an expert on how to get a mortgage loan approved by thinking like a lender:
1. Know Your Credit Score
Pulling your credit report and ordering your credit score takes less than a minute. However, some future buyers never check their scores and credit history before submitting a home loan application, assuming their scores are high enough to qualify.
Additionally to credit score requirements, late payments, missed payments, and other derogatory information can prevent approvals. Keep your credit score up to date by paying your bills on time, reducing your debt, and paying your bills on time. Maintaining a good credit score begins with cleaning up your credit history and fixing errors on your credit report.
2. Save Your Cash
If you are thinking of applying for a home loan in the near future, be prepared to cough up the cash. It is a surefire way to get your home loan application rejected if you walk into a lender's office with no cash. Although mortgage lenders once approved zero-down mortgage loans, they now require a down payment.
3. Stay at Your Job
Maintaining contact with your employer throughout the home buying process is crucial. Changes in your employment or income status can halt or greatly delay the mortgage process.
Your home loan application is approved based on the information you provide. Lenders reevaluate your finances to determine if you still qualify for the loan when you quit your job or become self-employed.
4. Pay Down Debt and Avoid New Debt
You don't need to have a zero balance on your credit cards to qualify for a mortgage loan. The less you owe your creditors, the better. Your debts determine if you can get a mortgage, as well as how much you can acquire from a lender. Before approving a mortgage, some lenders evaluate your debt-to-income ratio.
5. Know What You Can Afford
Lenders shouldn't determine your mortgage loan amount. Lenders determine pre approval amounts based on your income and credit report, and they do not take into account how much you spend on daycare, insurance, groceries, or fuel.
Instead of buying a more expensive house just because your lender says you can, be smart and keep your housing expenses within your means.
4 quick ways to improve your credit score
A lack of credit history can result in a poor credit score. If you don't have a record of taking out loans and paying them back, you should open a small retail account or a cell phone contract. It is important to pay back these debts on time and in full each month (if not a bit extra).
You will need to settle your debt as quickly as possible if you have a low credit score due to an impaired credit record. The following tips can help you improve your credit score:
Pay your bills on time.
Settle and close accounts.
Pay more than the minimum instalments on existing debts.
Avoid applying for additional credit over this period.
Find a reputable service provider, understand your credit score and obtain a prequalification certificate before you start the home loan process. This will give you an idea of what you can afford and if you are eligible for a loan.
Conclusion
Don't despair if your home loan application is denied. Remember, the lenders meet most loans with a hard no. Take advantage of your mistake by learning from it and submitting an even stronger application the next time around. This approach ensures progress. Continue to work hard, and you'll eventually get the financing you or your home needs.