Sometimes we find ourselves in situations where our finance just doesn't make it to the end of the month. Irrespective of how carefully you plan and budget, something unexpected like a car repair or a doctor's bill might pop up. Hoopla loans become your number option when you're stripped of cash and only need extra money to get through to payday.
About Hoopla Loans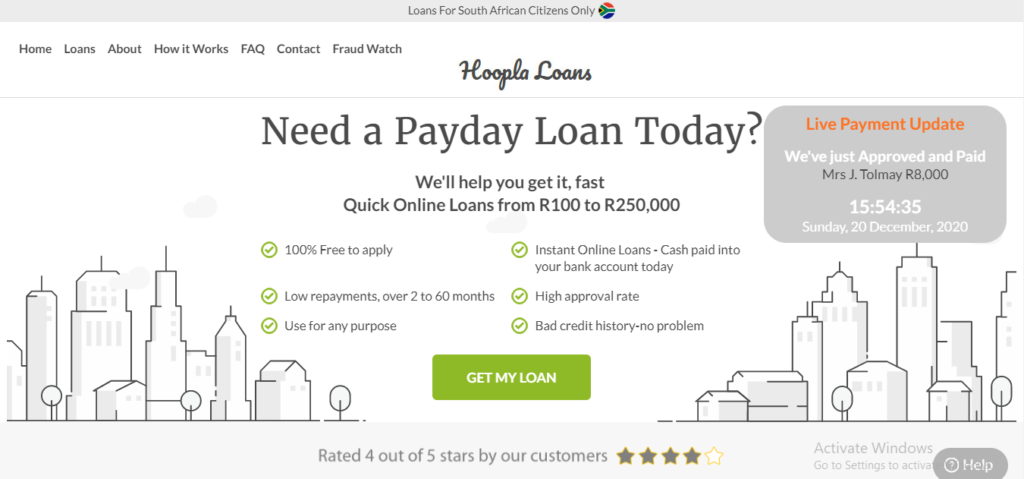 Hoopla loans is an online brokerage company that offers payday loans and other forms of credit service to its borrowers. They offer loaning products such as long-span loans and personal loans. As a broker, Hoopla is not really a lender, but they compare different lenders and banks.
As soon as you complete Hoopla's online application form, hoopla sends it out to credible and reputable lenders. Lenders will consider your application and treat it as top priority knowing it is coming from Hoopla loan. Irrespective of the fact that you might have a bad credit score, Hoopla loan can solve your financial challenges.
Requirements for qualifying for a Hoopla Loan
To qualify for any Hoopla loan, you must be:
above 18 years;
a SA citizen or resident;
permanently employed;
receiving a salary or monthly income that is more than R5000;
Willing to undergo a credit check; and
not be under debt review.
Do you have these few requirements in check? Well then, consider yourself a step closer to getting your desired loan amount.
What is the minimum/maximum amount offered by Hoopla loans?
As stated earlier, Hoopla loan is an online loan broker. With them, prospective loan applicants can get a minimum of R100 and a maximum of R8000 in one instance. This amount is payable within 6 months. Also, the value of the maximum/minimum amount you can get from hoopla loan depends on your credit ratings.
How to apply for a Hoopla loan?
After ensuring you have the aforementioned requirements in place, you're set to continue to the next stage, which is the application. The following processes will guide and ensure a smooth application
Visit Hoopla's official website at https://www.hooplaloans.co.za/paydayloans
Fill in the secure online application form that appears. Provide the required personal details
Give hoopla authority a few moments to view and analyse your credit report. Carefully study and agree to their terms and conditions while that is going on.
Click on "Get My Loan."
A panel of lenders associated with Hoopla will look at your application. You can receive a loan approval through a call, email, or SMS.
Once you receive a loan offer, you sign it online.
Now take a deep breath, you will receive the loan amount in your bank account .
However, it is important to note that your loan application might take up to 4 hours for same-day loans transfer.
Benefits of Hoopla loan
Acting as a loan mitigator, Hoopla loan has a few edges over other financial service providers. Below are some advantages;
If you have bad credit, they can help you secure a loan.
Hoopla provides you with many loan offers to choose from, and they all have flexible and affordable repayment terms
Hoopla Loans Company charges zero fees.
You usually receive money on the same day of application. Although some lenders can take at least 4 days to fully process your loan application).
National Credit Regulator registers all lenders associated with Hoopla
Your application is online.
You can use the money you receive for any purpose you want.
Conclusion
Time is of the essence and we all know nobody wants a service that would not only waste their time but be inefficient too. Considering this, Hoopla loans can be the best option for you. The fact that they can connect you with a credible lender in no time puts them way ahead of other brokerage platforms. It is also important to note that their mitigating acts come at zero cost.