It is crucial to adopt an effective solution if you are struggling to manage and repay your debts; debt consolidation is a common method to help you get control over your debt and finances.
A consolidation loan allows you to combine all outstanding balances on credit cards and personal loans into a single account, which allows you to pay less monthly and lower your risk of defaulting. Basically, you merge your debt for a lower interest rate than you have been paying on your smaller loans.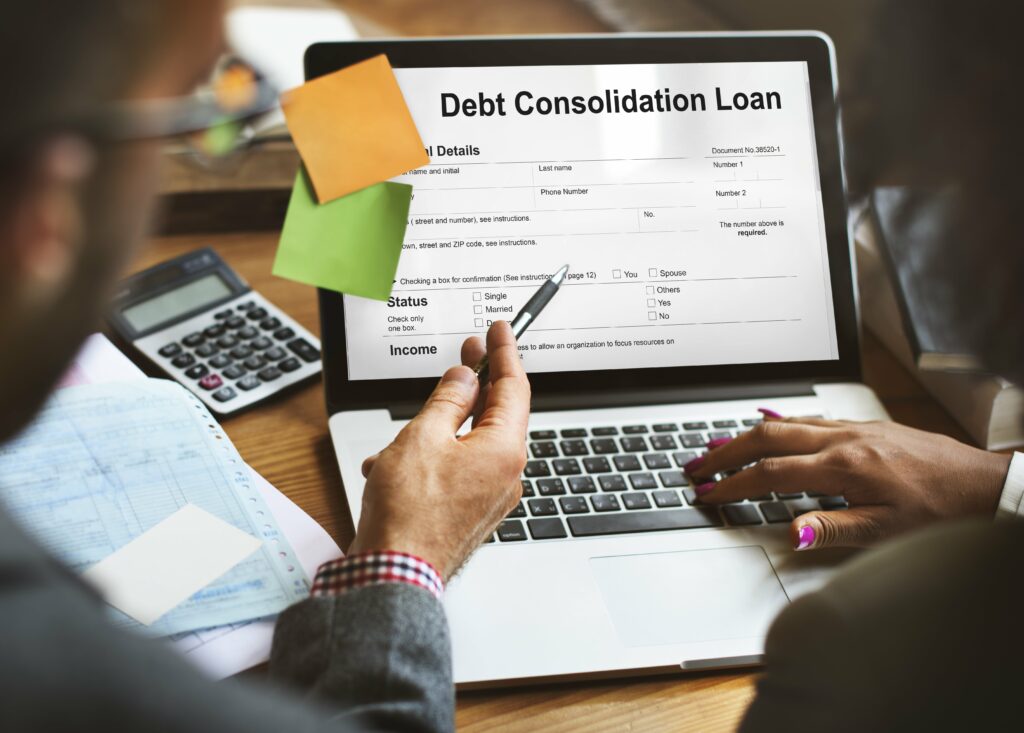 What is Debt Consolidation?
Debt consolidation refers to the act of taking out a new loan to repay previous debts. Multiple liabilities and consumer debts are merged into a single larger debt, such as a loan, usually with a lower interest rate, lower monthly payment, or both.
 Using this tool to manage your debts, student loan, credit card, and other debts to be extremely convenient.
How does debt consolidation loans work?
The process of debt consolidation involves merging debt into a single liability. When a consumer has several debts, they can apply for a loan to merge them into one simple liability. Once this integration is complete, the debt is made payable. The new debt is repaid in full.
For most consumers, the first step of the application process is to apply through their bank, credit union, or credit card company. A consolidation loan is a great way to start, especially if you have a good relationship with your institution and a good payment history.
To achieve true debt relief, or if you do not qualify for loans, it is wise to consider debt settlement. Debt consolidation loans do not erase the original debt; rather, they simply transfer the debt to a new provider.
Debt settlement reduces a consumer's obligations rather than the number of creditors.
What are the key aspects of consolidation loans?
Before applying for a debt consolidation loan, you must take the following key points into account.
Taking a loan to pay off debt and liabilities is what debt consolidation is.
Debt consolidation loans do not entirely erase the original debt. The lenders transfer the benefactor's loan only to another lender or type of loan.
They are two major types of debt consolidation loans. They include secured and unsecured.
Benefactors can apply for debt consolidation loans, lower-interest credit cards, and special programs for student loans.
Is Debt consolidation the right option for me?
If you're having trouble, repaying your debt and you're accumulating more debt, seek professional help as soon as possible. A debt counsellor or specialized financial advisor can provide the help that you need.
This professional will look at your financial situation and develop a plan for getting out of debt to you.
What type of debt can you consolidate?
Generally, debt consolidation is possible both for secured and unsecured loans.
Secured loans.
Loans secured with valuable properties as collateral (for example, a home or a car) guarantee that the borrower will repay the borrowed money. If you default on the loan, the lender may seize the home or vehicle. Types of secured loans include:
Personal asset secured loans.
Secured cash loans.
Unsecured loans.
Don't require collateral. They are not backed by any asset. This type of consolidation loan is usually very difficult to get. As a result, they carry a higher risk for the lender and higher interest rates for the borrower. Typical examples are:
Credit card debt.
Unsecured Personal loans.
Medical loan.
Generally, interest rates for such loans are lower than those charged on credit cards or other forms of loans. They are also typically fixed, so they will not fluctuate during repayment.
Different methods of debt consolidation
There are many consolidation options available for South Africans when it comes to consolidating their debts. Most lenders will consider your debt, your income, and your credit score in order to determine eligibility. Some of the most efficient means of debt consolidation are seen below;
Debt consolidation loan.
Consolidation loans are specially designed for people to pay off an enormous amount of debt at a lower interest rate. There are no requirements for collateral or security when taking out a consolidation loan.
Registered South African credit providers offer to R250 000 for this type of credit, with interest rates as low as 15% and a small administration fee for handing the paperwork.
Secured personal loan.
Getting a secured personal loan is a simple way to get credit, even with a low credit score. Authorized lenders will readily advance you this type of loan if you have a valuable asset, such as a car as collateral.
Balance transfer credit cards.
If you have an existing credit card with a promotional interest of 0%, you can transfer it to a new card to avoid paying more interest. This can be done at no cost or for a small fee.
Additionally , when the promotional rates end, standard interest rates will become prohibitively expensive, making balance transfer credit cards worthless if debt cannot be paid off quickly.
Home equity loans.
This type of secured loan provides homeowners with equity in their homes the ability to borrow using the home as collateral. The borrowed amount can be used to consolidate any debt. Home equity loan offers lowers interest rates, but you risk losing your home if you default on it.
Applying for Debt consolidation
When you have chosen the right type of debt consolidation product for you, apply right away for the loan. Your credit will have to be checked to ensure your qualification.
You should be absolutely sure about the loan you are applying for as making over one application can severely affect your credit score. A lender will examine your income and expenses to ensure that you will repay the loan.
If you have a bad credit history, then you'll need to find more information on obtaining a loan.
What you need to apply for a consolidation loan
Applying for a debt consolidation loan in South Africa is easy and only requires the following:
Proof of income showing salary deposits for the last three months;
Bank statement showing salary deposits for the last three months;
Proof of residence less than three months old; and
Prospective applicants should also be 18 years and older.
Your credit history will probably affect the documents you'll need, but the documents above are quite important.
Advantages of consolidation loans.
The following are the major importance of consolidation loans;
Debt consolidation is a great tool for people who have multiple debts with high-interest rates or monthly payments.
Debt consolidation loans can help your credit score. Settling the portion of the principal loan sooner can keep interest payments low. This means less money out of your pocket. This can help boost your credit score, making you more attractive to future creditors.
Taking a debt consolidation loan can give you a tax break chance. The internal Revenue Service permits deduction of interest on any unsecured debt consolidation loans.
Disadvantages of consolidation loans
Consolidation loans have some disadvantages too. Some of these disadvantages include;
Consolidation loans have longer payment schedules, so applicants might end up paying more in the long run.
By transferring existing loans into a brand new one, there may initially be a negative impact on the consumer's credit score. This is because credit scores favor longer-standing debts with longer, more-consistent payment histories.
Ending the old credit accounts and opening a single new one may reduce the total amount of credit available, raising the debt-to-credit utilization ratio.
Consolidation loans can also cause potential loss of special provisions such as interest rate discounts and other rebates.
Conclusion
Debt consolidation rolls multiple liabilities and debts, typically high-interest debt such as credit card bills, into a single payment. It might be a great idea for you, especially if you can get a lower interest rate. This will help you reduce your total liability and reorganize it so you can pay it off faster.
Merging these debts into a single liability makes the debt payable. These debts are fully repaid.