In 2017, the South African Reserve Bank reported that the total banking assets in the country were ZAR 6 trillion. That is actually how successful Commercial banks in South Africa have been. The assets growth in this industry has been steady since 2002, reaching $88.7 billion. However, the question is, which banks here in South Africa contributed the most to the growth? This article contains a list of commercial banks in South Africa that played an active role in the immersive growth.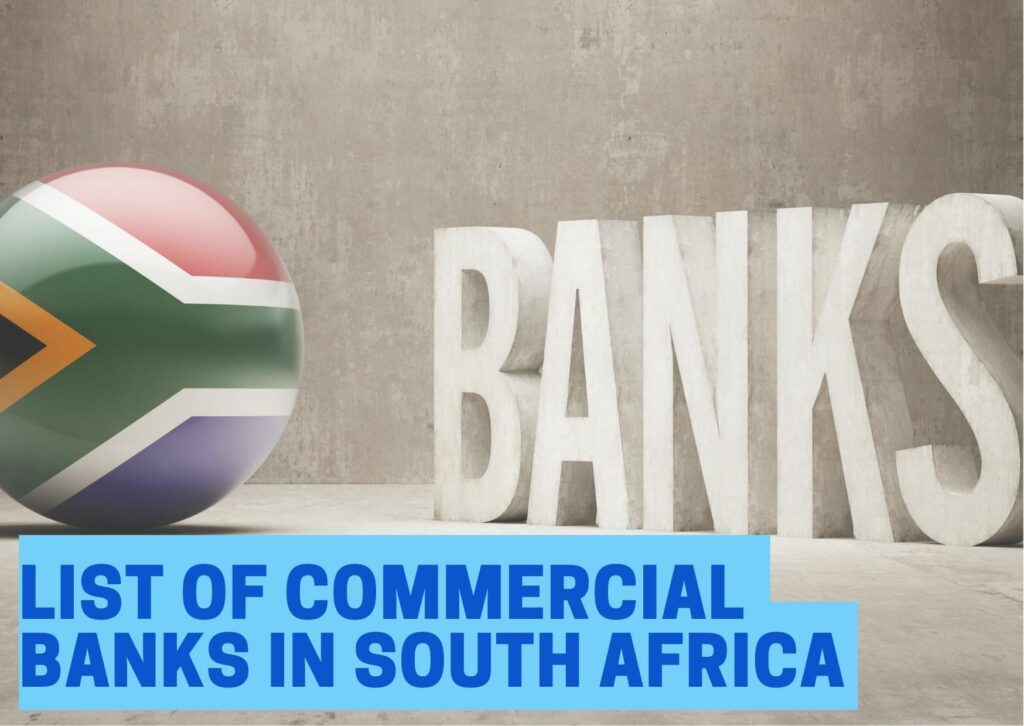 South Africa's monetary authority is the Reserve Bank. Commercial banks in South Africa, however, are regulated by the Banking Association of South Africa. During interactions with the government, the organization represents the industry's collective voice.
Here is a list of popular commercial banks in South Africa that you need to know: 
The Absa Group is a leading provider of financial services in Africa. The bank describes itself as a financial services group that aims to be the pride of Africa. This financial service provider is widely known for the efficient provision of credit services like personal loans, mortgages and more.
Africa Bank Limited ABL is headquartered in Midrand 1685 Johannesburg. The bank specializes in unsecured loans for individuals and businesses in South Africa. According to the South African Reserve Bank, ABL's total assets were R32.954 billion. 
3. Tyme Bank
The banking industry has attracted the rich and even South Africa's richest man, Patrice Motsepe, decided to invest through Tyme Bank. The African Rainbow Capital Investments (ARC Investments) owned bank looks to gain 400,000 customers barely one year since its launch. Tyme bank has already opened 740,000 bank accounts. Many of those are inactive though. 
Standard Bank Group Limited, operating as Stanbic Banks South Africa, is the largest bank in South Africa. It is also the largest bank in Africa by assets and earnings. Over 560 branches of the bank are located in 20 countries across Sub-Saharan Africa. The bank's home mortgage and credit card operations are the largest in South Africa. 
5. Bidvest Bank Limited (BVBL)
Bidvest Bank Limited is a market leader in foreign exchange products and services in South Africa. Over 1,100 employees work for the bank, which has over 80 branches across the country.
6. Bank Zero
This is another new entrant in the industry looking to give the traditional banks in South Africa a run for Across the country, the bank has over 80 branches and employs over 1,100 people. their money. It aims to be a force to reckon with in the already crowded market.
7. Discovery Bank
A new bank in South Africa, Discovery Bank aims to reshape the country's financial market alongside Bank Zero and Tyme Bank. Several new players have entered the banking industry and are already posing a threat to the traditional big players. 
8. Capitec Bank Holdings Ltd
Located in Stellenbosch, this retail bank provides its services to both individuals and businesses. However, the bank does not provide banking services to corporations, trusts, partnerships, or companies. With over 800 branches, Capitec Bank employs over 11,400 people.
9. RMB Private Bank
Among South Africa's top private banks, this bank makes the list. A bank founded in 1977 has managed to keep up with industry changes since it was founded. The bank's headquarters are in Johannesburg.
10. FirstRand Group
This Banking group has over 44,000 employees in over 800 retail branches nationwide. The bank has over 75,000 ATMs and operates subsidiaries across the African continent. 
What are the four largest commercial banks in South Africa?
The Prudential Authority annual report released by the South African Reserve Bank shows that South Africa's five largest banks continue to dominate the country's financial landscape. The 'big five' account for more than 90% of all banking assets in the country, valued at approximately R5.8 trillion as of March 2021. 
South Africa currently has 31 banking entities, including 18 local banks and 13 branches of foreign banks, according to the Prudential Authority. Additionally, there are four entities operating at mutual banks, including VBS, which have not yet been deregistered.
There are just under R6.5 trillion in assets managed by South Africa's banks, while R3.4 billion is managed by mutual banks.
The Prudential Authority no longer reports the breakdown of individual bank assets, although other annual reports provided by banks themselves give a detailed picture of how the market is divided up.
This shows that the five biggest banks in the country are:
Standard Bank
FirstRand (FNB)
Absa Bank
Nedbank
Investec
Conclusion
In today's world, financial management is one of the most vital aspects for companies and individuals alike. This ensures that you plan efficiently for the future, and finding the best financial institution to meet your needs is a huge part of it.