Capfin loan is a top-tier credit provider in South Africa. The most common solution to financial contingencies when individuals and businesses face them is for them to take out loans. Because getting an extremely exorbitant rate is unwise, prospective applicants must take the time out to make credible financial decisions.
The information contained in this article encompasses everything you need to know about Capfin loans.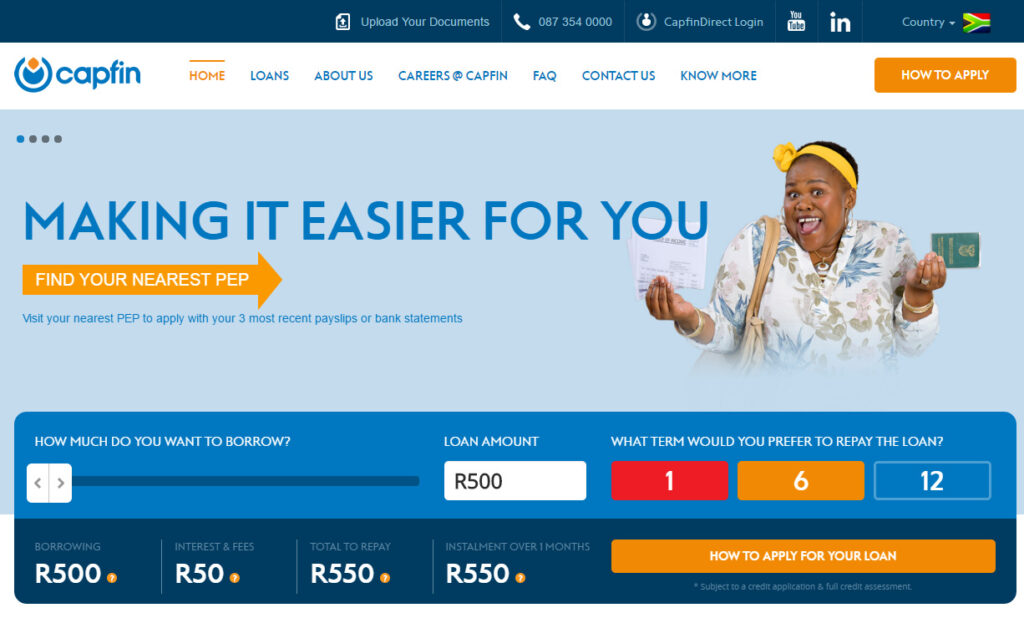 About Capfin Loan.
Capfin is a multi-award-winning financial institution that extends loans as high as R50 000 within a 24 month repayment period. Additionally, to providing access to affordable credit for their customers, they believe that uplifting the lives of their customers is essential to their business.
By partnering with leading financial service companies such as Fincheck, Capfin seeks to redefine perceptions surrounding unsecured credit. Customer education is also at the heart of all their loan advertising, processes and communication with customers.
What you need to apply for a Capfin Loan.
To apply for a Capfin loan, you need;
A valid SA ID.
3 latest pay slips or 3 latest bank statements.
Employees must have a steady job and monthly income.
A valid cell phone number.
A valid SA bank account.
Must be 18 years or older.
Your Capfin loan application must include these documents;
A valid SA ID.
3 latest pay slips.
At Least 3 latest bank statements.
How to apply for a Capfin Loan.
There are two loan application methods employed by Capfin Finance. These methods are online application and offline application.
Online application on the other hand doesn't require a physical appearance. This application process can be executed from any location. Capfin Finance employs this method of application because of the advancement in technology. This application process involves and Visiting capfin.co.za and clicking on Apply Now
Alternatively, prospective applicants can simply SMS their SA ID number to 33005. The ever available customer representative will send a feedback containing your eligibility and more information.
How to submit the required documents for the Capfin Loan.
Do you have all the aforementioned documents? Hers is a step-by-step guide to submit them to get your loan application approved:
Upload your documents right on the Capfin website by selecting the upload tab on the website.
You can also scan your documents at any PEP or Ackermans store nationwide.
Prospective applicants may also email your documents to: docs@capfinmail.co.za with your SA ID number in the subject line after applying.
Fax your documents to 0866880000 with your SA ID number noted in writing as reference after applying.
With your permission, we can assist in retrieving your documents at no extra cost to you if you bank with ABSA bank, Standard bank or Nedbank.
Loan Repayments
For a settlement quote, you may call Capfin's contact center at 087 354 0000 or use our USSD service at *134*6454#. Once your given expiry date has passed, you can make payment via the following methods:
Direct Deposit.
EFT.
Pay@ available in any PEP Store.
Conclusion.
Time is money and people hate wasting it. The fact that Capfin loans are almost instant puts them ahead of other credit providers. Also, operating with a state-of-the-art security system in place, the privacy and security of the data you provide will be safe.