What banks consider before giving you loan could be external or internal. Some banks offer internal scores that are used for determining whether a person is eligible for a loan. External factors include credit history, the credit score, the borrower's reputation, and the relationship that you have with the bank.
In addition, you need to understand that loan approval is not a simple process. People are unaware of the requirements needed to get the bank to approve a loan. Given below is a list of what banks consider before approving or giving you loan.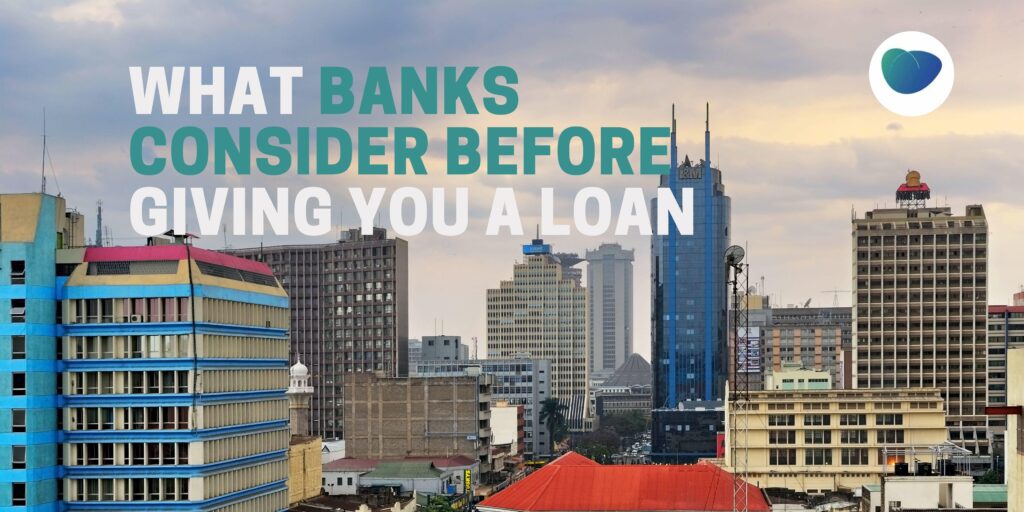 What you need to know about what banks consider before giving you loan
For banks, it's crucial to collect accurate information about borrower income and assets. Your financial situation will be thoroughly examined and a bank will see that you are serious and capable of getting the loan. When you contribute money toward your down payment, the bank will make sure they don't come from another source (i.e., withdrawing from retirement savings). Therefore, banks consider a lot before giving you a loan.
9 factors banks consider before giving a loan to an individual or business?
Factors banks look at before lending money to individuals include:
Credit history
Purpose of the loan
Borrower's age
Work experience
Occupation
Distance of the collateral
Repayment duration
Relationship with the bank
Additional income
1. Credit history
Banks always preferred people with good financial habits. How you manage your finances can be determined by your credit score. By checking your credit report, which is maintained by different bureaus, you can determine whether you pay your EMIs on time or default. The chances of your loan application being rejected are high if your credit score is below 300. The lender is more likely to approve your loan faster if your credit score is high.
2. Purpose of the loan
Banks would want to know the reasons you are taking up a loan. On the application form, you would clearly write the purpose of the loan. If your reasons are not valid enough, they won't grant your loan.
3. Age
Banks also consider the age of the borrower before giving them a loan. People aged 30 to 55 years are most favored, since they are considered more financially stable. Meanwhile, people over 65 score poorly on the internal scoring models of banks. Age 18 and above are allowed legally to apply for a loan once you have a means of repayment. Teens below this age limit are not considered.
4. Work experience
It is common for banks to ask how long you have been working for your current employer. This is because the more time you spend in the bank, the more points you earn. For example, they prefer people working for over 10 years over those with an experience of up to 5 years. Banks also prefer people who have worked for at least two years in a company.
5. Occupation
Banks prefer certain occupations. Often, government and public sector employees are preferred as they have stable jobs. The banks prefer people working for big companies, lawyers and doctors after government employees. Those who are self-employed and those who work in private companies get the lowest scores. While appraising a loan, occupation is an important factor to consider. A person's ability to repay the loan depends on his or her income. Borrowers who switch jobs frequently give a negative impression.
6. Distance of the collateral
Banks also considered the distance of the collateral from the financing branch while sanctioning a loan. According to some banks, a security within the county limits or in the same county is the most preferred. If the security is very far, banks hesitate in approving a loan.
7. Repayment duration
A shorter repayment period is what all banks like. Many banks offer maximum scores to people who choose a repayment period of up to five years. Between seven and ten years, it is cut in half. Those who choose a payment period from 10 to 20 years enjoy the lowest interest rate. Therefore, if approval is difficult the next time, try shortening the loan period.
8. Relationship with the bank
You have a higher chance of getting approved for a loan if you have a long relationship with the bank. Banks due to their familiarity with past financial transactions value old customers. They definitely prefer someone who has worked in a firm for over five years to the one with no prior relationship with the bank.
9. Additional income
Your bank will appreciate you having a surplus after paying your EMIs. Low surplus shows financial distress, making you more at risk of default. Considering the above criteria when applying for a loan will save you the trouble of running from one individual to another.
7 factors banks consider before granting a loan to a salary individual?
Banks consider the following factors before lending money to salaried professionals:
Credit Score
Current income
Employment history
Occupation
Repayment history
Amount of Loan
Reason for the Loan
Why is it important for banks to collect all loan requirements?
Banks ask for all information because it helps them make a more informed decision to grant you a loan. In order to decide whether a bank will grant you credit solely based on your income or if they will require security, they would review your income history.
Note that crossing the "t" and dotting the "I" is very important while filling the application form. In order to qualify for a loan, you must be able to provide enough data to support all loan requirements, demonstrating that you have the financial means to repay the loan.
9 bank loan requirements you must be prepared to get
The lists below are what a typical bank will expect from a small business loan applicant:
A write-up stating the reason for the loan
Written business experiences
Business plan
Copy of credit history
Presenting documents showing all personal information
Recent copies of bank statement
Collateral or security
Cash flow
Information on various Outstanding loans
A guarantor
Conclusion
Banks evaluate loan applications with the help of various factors. Understanding what these factors are can improve your chances of being approved. Consider improving any of the above factors before you apply if you think they will hurt your chances of approval. Moreso, it is also important you know the requirements for each time of loan and present all documents required.