A big "Yes" to a quick loan when you need one. Never go broke again. No much stress. Absence of long queues. No paperwork. No office visit. Just use your smartphone and download the Pesazone App. PesaZone loan App gives you leverage to request and receive loans via M-Pesa from anywhere in Kenya without any documentation or stress.
Be my guest as I take you through the PesaZone loan and features of the app.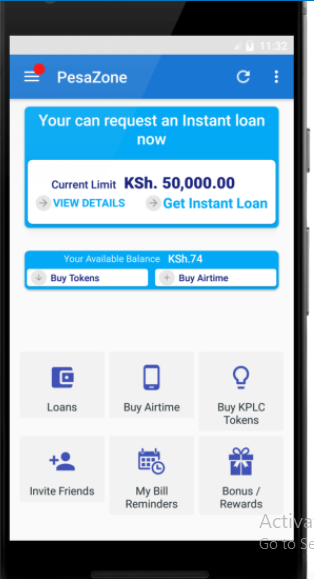 About Pesazone loans
PesaZone loan is in the form of a peer to peer lending platform. Lending through peer to peer is a method where an individual with enough fund or money lends money to another. Someone who acts as a referee stays there to watch everything.
However, the debtor pays back the money borrowed. The lender uses the lend option on M-pesa to lend money. They allow you to top up and also move from Ksh 1,000 to Ksh 50,000.
As a customer, you can take a loan directly from the app, from KES 250 to 50,000 and receive the cash via M-Pesa immediately.
Requirements and Eligibility
Who is eligible for PesaZone loans? To be eligible for PesaZone loans, you must meet a few requirements as listed below:
Be an active Safaricom user for at least 6 months.
Have a Kenyan ID
Have an excellent credit history, therefore, must not be negatively listed with CRB.
Pay fee of KSh 1 as verification fee.
Pros and cons of pesazone loans
The pros and cons of Pesazone loans includes:
Pesazone loan platform gives you quick loan instantly and within 24 hours
You can repay your PesaZone loan in instalments basis i.e loan repayment as it applies
As a lender, loan repayments are collected and deposited into your account automatically and you can withdraw through M-pesa.
Cons
You cannot download PesaZone from your iPhone or other IOS systems.
You cannot access Pesazone loan via USSD code
Their system of operation is strict. When one doesn't get the rating of the Credit Reference Bureau and other online records, PesaZone will not be able to give you a loan.
Minimum and maximum amount you can borrow from PesaZone loans
PesaZone loan app has a minimum loan amount of KSh 250. The highest loan amount from PesaZone loans is KSh 50,000.
How to borrow loans from PesaZone
You can borrow instant mobile loans from PesaZone in the following simple steps:
Visit the website to download the app.
Register by filling in the required details like your full name, your national ID card number, your Safaricom phone number and your Date of Birth).
Go further to create a 4 digit PIN for your PesaZone login.
Log in to your PesaZone account and apply for a loan by adjusting or moving the slider.
Select your intended repayment period.
PesaZone loan app will showcase your loan terms and conditions both weekly repayment amounts and the interest rate.
Read through and accept the loan terms and conditions to conclude the loan application process.
Your loan will be delivered to your Safaricom number in less than 24 hours. You will receive a message indicating your PesaZone loan receipt.
We recommend that you don't delete your M-Pesa transactions history. The decision to give you a loan is based on the smooth and good record history on M-pesa. it is a best practice to accumulate M-Pesa records for about 60 days.
PesaZone loan interest rate
Their loan interest rate is at an average of 12%.
PesaZone loan term/Duration
The minimum PesaZone loan period is 7 days while the maximum PesaZone period is 90 days.
Going by the above illustration:
A customer can select a different repayment period displayed on the Loan Repayment Period field either weekly or monthly. The repayment date is based on the loan amount. A loan amount of KSh. 3,000 and above has longer repayment durations.
An Additional fee called Facilitation fee?
On PesaZone loan platform, a facilitation fee of Sh.500 is available.
Illustration 1:
Loan Amount: Sh. 20,000, Facilitation fee: Sh. 500, Total loan cost: Sh.20,500.
App review
You can download the app from the https://pesazone.com/site/index.
The features of the pesazone app range from:
You can use the App to view the balance, account statement and the repayment instructions on the window field.
The app has lending option where different lenders can register and lend to other citizens
It is easy to navigate and use
Loans given out by a lender when repaid is quickly transferred to the lenders account
A customer can quickly withdraw cash through his M-pesa account on the app.
How does PesaZone loans determine and showcase my loan limit?
The highest loan amount is KSh. 50,000. To determine your loan limit, PesaZone looks at your credit score based on the information they got from CRB (Credit Reference Bureau) Reports and M-Pesa transactions history.
In addition, the loan limit increases each time you receive and repay the amount. (Remember that all loans should be repaid on time).
How to repay PesaZone loans
PesaZone loan has weekly instalments, by implication, this means your first loan instalment should be repaid in 7 days. Procedure for repayment include:
Go to your M-Pesa menu and click 'Lipa Na M-Pesa'.
Choose your Business number, input the pay bill number 754285 to repay your PesaZone loans.
Enter your Safaricom phone number as the account number.
Enter the amount to be paid and confirm with your pin.
A nnotification indicating your loan repayment will be sent to you.
Additional explanations on PesaZone loan
You can repay your loan before the due date and in instalments of any amount.
Excess payments will be applied to your future loan application
You can request another loan immediately if you settle the current one.
How fast are loans released
Loan applications are processed within 2 minutes and you receive the exact loan amount you apply for on average of 5 minutes.
How to contact pesazone loans
For any queries, email them via support@pesazone.com. To ensure and maintain efficiency, you can communicate them on their website, via call or physical visit to their office.
You can also visit their website to learn the loan terms and conditions.
Conclusion
If you really need to make money using money, you can loan/lend out what you have and get an interest in return. If you also wish to have your loan account deactivated, you will be required to make the request in writing via email to support@pesazone.com. Pesazone loan app is simplified and user friendly, you can access loans at any time. It is a loan platform you can trust and still want to borrow from in times of emergency.