Mobile lending apps have become an easy source of fund for all citizens of Kenya who qualify. For Kenyan who do not have accounts with banks and other financial institutions, online and mobile loans come in handy. With the growth of mobile money like that of Zenka loan app, funding is not much of a problem.
Digital loan has helped with access to finance, very easy to come by and with minimal fuse. Let us discuss Zenka loans and all you need to know.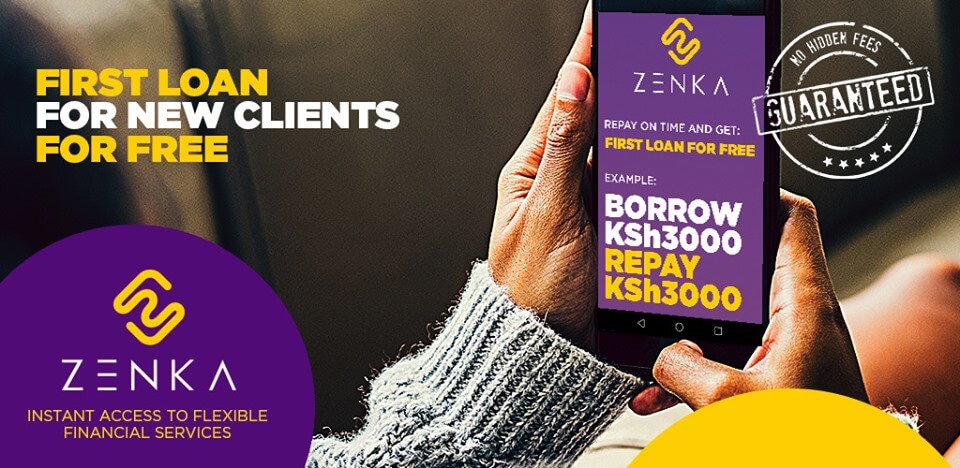 About Zenka loan
Zenka loan app is offered by Zenka Kenya. With its unique and friendly feature, it has offered many loans to citizens of Kenya. You can access loans on this platform without having a smartphone. No hidden charges attached to any loan. The mobile app is available on the Apple Store and the Google Play store and your iPhones and android phones can access the app.
Minimum and maximum loan amount
Individuals applying for personal loans through Zenka app enjoy loans ranging from Ksh 500 to Ksh 20,000 and those applying via USSD can secure a minimum of Ksh. 500 to a maximum of ksh. 10,000. .
Interest rate
In Zenka's loan, interest rate is 11% within a repayment duration of 30days.
Repayment duration
You can pay off your Zenka loan within one to thirty days after you receive it.
Zenka loan eligibility and requirements
To use the Zenka mobile loan app, you need to be eligible through:
The individual needs to own a phone
Be 18 years and above
Have a valid national ID
Possess a registered Safaricom sim card.
Zenka loan app download
You can choose to download from their website or Google play store, install, and launch the Zenka loan app.
Register by supplying the required information.
Upon completion, they will require you type in the PROMO CODE 'EK6P'
Features of Zenka loan app
The platform is accessible to all Kenyans and easy to operate
Over 500K+ downloads
4.2/5 star rating
14k+ reviews
How to register with Zenka on an Android smartphone
To register with Zenka on an android smartphone, follow these steps:
First open the Google play store or apple store to download and install the Zenka loan app on your phone
Launch the app and enter your personal details
Select a security question and answer the question.
Create a 4-digit pin for your account set up
Click on the "Agree and sign up" button and accept the terms and conditions
If successful, you will receive an SMS with a 4-digit verification code.
Enter the code and click "Done" and send it.
How to register for Zenka Loan via USSD code *841#
You can register for the Zenka loan using the USSD code *841# or *483*101# if you do not have a smartphone. The procedure includes:
Dial *841#
Enter your user PIN and select "Apply for a loan" option.
They will display a notification showing your loan limit
Select "Apply for Full Limit" or enter your desired loan amount.
Select the loan repayment period, and you're done.
If the loan application is successful upon verification, the loan amount will be dispatched straight to your M-Pesa account.
Repaying Zenka loan using Zenka paybill number
To make repayment, follow the procedure below:
Launch M-Pesa in your Safaricom menu on your phone
Choose Lipa na M-Pesa
Select the Paybill option
Enter the Paybill number 979988
Input your registered M-Pesa number as your account number
Type in your repayment amount
Enter your M-Pesa pin
Confirm that all details are correct and all data corresponds and press 'OK'.
How to repay Zenka loan via USSD
Follow these steps to repay Zenka loan.
Dial the *841# on your phone
You will be prompted to enter your secret 4-digit PIN.
Select the "Repay" menu option; your current loan balance will be displayed.
Follow the system user prompts to complete payment
You will then receive an SMS notification, and your loan will be closed.
Zenka app permission
The loan app makes sure your data is always 100% secure. They do not share your data with third parties, unless reporting to authorized Credit Bureaus during loan default. Also note that your phone data will be considered during loan disbursements. You need to give the app permission to read and access your phone data.
If your application is unsuccessful, accumulate enough data on your phone and attempt to reapply again.
Accounts Zenka loan app has access to
Your call information and your smartphone identity.
Dialled phone numbers
It reads your contact details
Checks your SMS or MMS messages
Wi-Fi connection information
Precise location and tracks your GPS, network based and approximate location
Zenka loan late repayments
Penalty fee of 1% per day is charged on any outstanding amount not repaid after the due date. The amount adds up each day until you pay up the outstanding loan.
Zenka loan repayment date extension
Zenka loan platform offers loan extensions at different durations. The fees depend on the duration. So 15% is for (7 days extension), 22% (14 days extension) and 29% (30 days extension) respectively.
Reset Zenka loan forgotten password
On launching the homepage of the app, click on 'SIGN IN' and input your phone number.
Locate the top right of the app page, click on 'Forgot PIN'
Remember the security you have chosen during registration and answer the security question
If your answer matches with what you supplied initially, you will receive an SMS or a prompt stating that your PIN has been reset.
How to apply for Zenka Loan Extension
Once you have supplied the requirements to receive a loan extension, follow the procedure below:
Dial the USSD Code *841# on your phone
Enter your 4-digit PIN
Choose "Extend" and check information about cost, terms and conditions
Select one of the available terms and conditions displayed
Follow the repayment link and wait for SMS notification.
After processing your extension payment, the due date of your loan will be updated.
How to contact Zenka loan
For phone calls, contact them @020 765 08 78. You can email them at support@zenka.co.ke. To check them out on social media, reach them on Facebook @zenkakenya and on Twitter @ZenkaFinance
Conclusion
Unlike most mobile loan apps, Zenka customers can conveniently access loans without necessarily having a smartphone. Zenka apps are compatible with IOS users. With Zenka loan, be sure to enjoy full digital services without any compromise. Their brand has spread through all crannies of Kenya plus their loyalty in service.