The best part of loan applications is not having your personal information compromised at the end. Branch loans offer loans to people anytime, anywhere, using the best data security and encryption techniques.
In addition, you apply for the loan within seconds and receive the money straight to your mobile money account.
There are more interesting things about branch loans that you need to know. Follow through this article.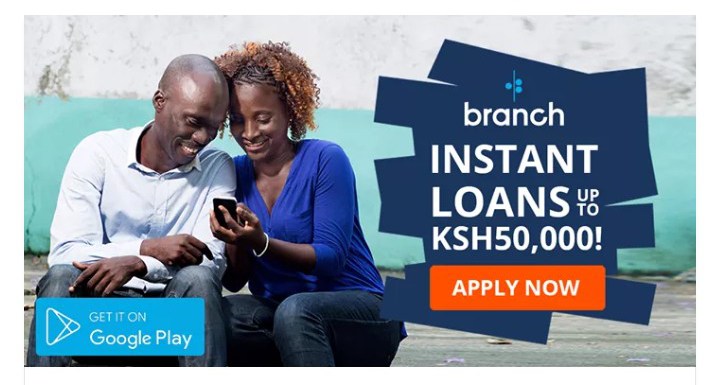 Things you should know about Branch loans
In Kenya, branch loans accept only Safaricom network. They operate in countries like here in Kenya, India, Tanzania, Nigeria and Mexico. In addition, they also have offices in distinct parts of the world, like the United states, San Francisco, etc.
They are also like banks within your reach. You can quickly access their loans using your smartphone. Branch loan is one of the best loans in Kenya and disburses money within minutes.
How much loan can you get from branch loan
Branch loan offers its customers a minimum of Kshs. 250 and up to Kshs. 70,000 which you have to repay at specified dates with no hidden charges. A good loan history earns you higher loan limits.
How to apply for branch loan
Getting a loan from Branch is very easy and can be obtained within 3 hours as long as you qualify for a loan. You can get a Branch loan through the following steps:
Download the Branch Loan App: You can download this application from Google Play store via
Create an account: To create an account you would be required to provide a valid national ID and an M-Pesa account registered with a Safaricom phone number.
Apply for a loan: Once your Branch account is successfully created, navigate to 'My Loan' and choose your preferred loan amount and associated repayment terms from your eligible loan amount(s).
Click on 'Request this Loan', confirm your mobile number and apply.
Upon application, they send in your loan request for approval and once approved, your loan would be disbursed to your M-Pesa account.
Interest rates of branch loans
Typically, interest rates for Branch loans differ based on your loan history and some other factors (e.g. cost of providing the service). The interest rates differ as follows;
Late Repayment Fees: NIL
Monthly Interest: 1% to 14%
Interest Range–10% to 27%
Equivalent APR–12% to 180%
Loan Terms–1Month–16Months
The rates above exclude transaction charges (e.g. SMS/data charges).
Eligibility
To qualify for a loan from Branch, you would need to provide your mobile money account, mobile number or Facebook ID and National ID. Branch would also require you to grant them access to your mobile phone so they can access some data points (SMS) that would enable them to qualify you for a loan.
Branch App Reviews
Features of branch loan apps are:
Branch app is an amazing app for timely access to loans.
It has 320,965 reviews on playstore
4.3 star rating on playstore
Has more than 10million downloads
Has a memory space of 5.9MB
Branch loan offers an intuitive design for improved borrowing experience and easy comparison of the loan offers available to you.
Branch loans offer different repayment options.
How long does disbursement take
Typically, they process loans within 3 hours, although this could sometimes take a few hours more.
How to repay branch loans
They slate loans collected from the Branch loan app and you can repay on specific dates, which they would display to you on the app. It is better you make your loan repayments on the exact dates scheduled for repayment so that your subsequent loan qualification will be high.
For Branch loan repayments;
1. Launch and login to your M-Pesa account
2. Click on "Lipan a M-Pesa" and select PayBill
3. Type in 998608 as the Branch loan PayBill number
4. Enter the M-Pesa pin number
5. Input amount you want to repay
6. Authorize the transaction with your M-Pesa transaction PIN
7. Check for payment notifications from M-Pesa and Branch
Also note that failure to repay a loan within stipulated repayment schedule would affect your subsequent loan eligibility and further cause your profile to be reported to the Credit Reference Bureau (CRB). Once your profile gets blacklisted by CRB, accessing loans from Branch or other loan providers would no longer be possible.
Conclusion
Branch loans can not alter or change your repayment durations. Try as much as possible to start early part repayment if you know you can't pay it off at once. Branch loans inherently to help with your immediate funds. Go for the loan, qualify, apply and get it to solve your pressing needs.