Short-term loans in Ghana are very useful for small businesses and individuals. The services may be helpful for businesses whose cash flow has suddenly dwindled. Meanwhile, emergency funds are available through such loans for individuals. In this article, you will discover the meaning of short-term loans. However, you do also get to know the financial institution to get them in Ghana.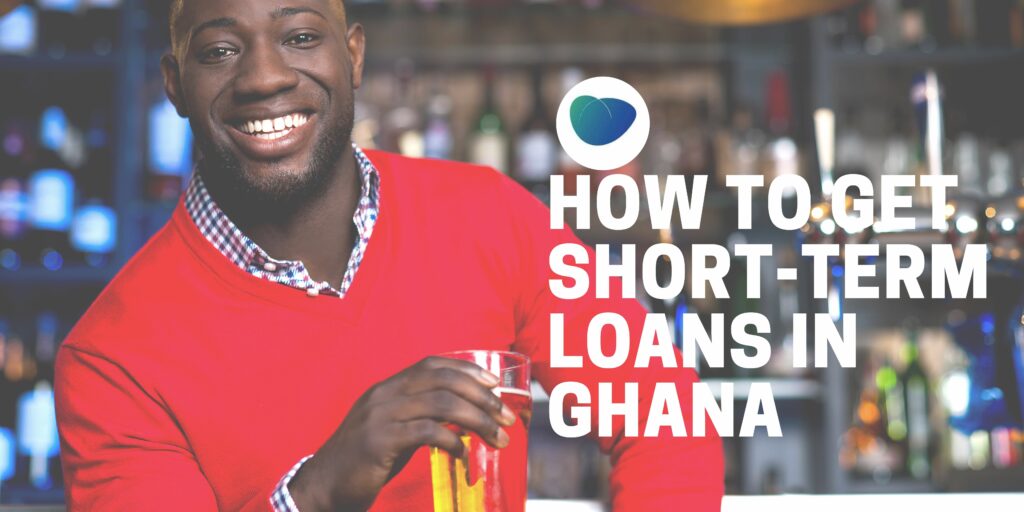 What is a short-term loan?
Short-term loans are simply loans that when you borrow, you pay back within a year from the day you got them. Low borrowing amounts make this loan ideal for individuals and small businesses that are not entitled to bank credit. You can use a short-term loan to finance short-term working capital gaps for your business.
If your small business is still establishing a credit line with a bank, a short-term loan is a valuable option. Borrowers will have to borrow smaller amounts, ranging from ₵100 to ₵100,000 for this type of loan. Besides businesses, individuals experiencing a temporary cash-flow crisis can also use short-term loans.
Characteristics of short-term loans
The reason short-term loans have such a short term is that they need to be repaid quickly. In most cases, you must repay it within six months to a year, but not over 18 months. Usually, any loan term that exceeds that we refer to it as a long-term loan. A short-term loan may not specify a specific due date or payment schedule. They simply let the borrower pay back the loan at his or her own pace.
Types of short-term loans in Ghana
Short-term loans can come in various forms like:
1. Merchant cash advances
This type of short-term loan is actually a cash advance but one that still operates as a loan. The lender loans the amount needed by the borrower. The borrower makes the loan payments by allowing the lender to access the borrower's credit facility. Each time there is a purchase by a customer of the borrower, the lender takes a certain percentage of the proceeds. This continues until the borrower repays the loan.
2. Lines of credit
Using this card is much like using a business credit card. The lender sets a line of credit up, and the business can access it as needed. They will base your monthly payments on the amount you borrow. Thus, the amount of the line of credit you have access to determines how much you have to pay each month.
3. Payday loans
A payday loan is a short-term emergency loan that is relatively simple to get. However, most lenders in Ghana offer them. One drawback to this type of loan is that you pay the entire amount in one lump sum when the borrower's next payday comes around. The lender typically withdraws the repayment amount from the borrower's bank account using the continuous payment authority. It is common for payday loans to have very high-interest rates.
4. Online or Installment loans
You can also apply for and approve a short-term loan online, as they do everything online. Within minutes of getting approval for the loan, they credit the borrower's account with the funds.
5. Invoice financing
A business can secure an account receivable loan by using unpaid invoices from customers that have not yet received their pay. Depending on how many weeks the invoices remain unpaid, the lender lends the money and charges interest. Also, upon repayment of an invoice, a lender will cut off the payment of the invoice. They also deduct interest from the payment before returning what they owe to the business.
Where can I get a short-term loan in Ghana?
Short-term loans in Ghana are easy to access, as you can get them from financial institutions like
1. Smartcash
3. Access Bank PayDay Loan
5. Blue Financial Services
6. Stanbic Bank
7. Standard Chartered Bank
8. Fidelity Bank
9. First Merchant Bank
10. Fido Micro
11. SRF Micro Credit
List of short-term loans in Ghana and their requirements
Here is a list of financial institutions in Ghana that offer short-term loans and their requirements.
1. Smartcash
Requirements
To use Smart Cash, you must be a subscriber.
You can apply by visiting their homepage.
2. MTN Qwik Loan
Requirements
MTN mobile money subscribers only.
Get a loan by registering.
3. Access Bank Payday loan
Requirement
Only dial *901*11# on any smartphone or mobile phone.
4. Bayport Ghana
Requirements
The organization you work for must be a partner of Bayport.
The most recent payslip.
A national identification card.
Two passport-sized photos.
Your bank statement showing proof of income.
5. Stanbic Bank Ghana
Requirements
Age must range between 21-60 years.
Fill out the application form completely.
Stanbic Bank should benefit the organization in which you work.
It must have been six months since you were in employment.
You must be a Ghanaian resident.
A copy of your last three payslips.
An identification card.
Utility bill from last month.
Consent letter from the employer.
6. Standard Chartered Ghana
Requirements
National ID card.
Statements of the past three months of your bank accounts.
Filling out the application completely.
It is essential that you have a job
There must be a scheme agreement for salaried employees in your organization.
The most recent payslip.
Undertaking letter.
7. Blue Financial Services
Requirements
Applicants must be an employee either in the public or private sectors.
There must be a partnership between Blue and your company.
Identification documents that are valid.
Statements of accounts.
A copy of a recent pay stub.
Document proving residence.
You must provide two passport-sized photographs.
Confirmation from the employer.
8. Fidelity Bank
Requirements
You must be a Ghanaian resident.
Salary employees only.
A valid form of identification.
Detail about a residential address.
Document proving residential details.
Two referees (relative or non-relative).
An employer's consent.
9. First National Bank Ghana
Requirements
Valid identification card.
Residential details.
Information on employment.
A good credit history.
A stable source of income is essential.
10. Fido Micro Credit
Requirements
Download and install the Fido app on Google Play Store.
Fill in the application form accurately.
Valid means of identification.
You must be a resident of Ghana.
They must register the account in your name for 8 weeks on Airtel Tigo money or MTN mobile money.
11. SRF Micro Credit
Requirements
A copy of valid identification.
The letter of employment.
Three months' worth of payslips.
Statements of bank account for the past three months.
A guarantor.
Valid identification of the guarantor.
Payslips or bank statements showing the guarantor's income for the past three months.
SRF will require the applicant to show proof of employment.
Requirements for a business owner
For you to be eligible for a short-term loan in Ghana as a business owner, you will need:
Certificates of registration for businesses.
Stock insurance.
A six-month statement from another bank.
Cash flow statement for the last three years.
Collateral accepted by the lender includes, but is not limited to, landed property, cash or investments. Also, a bank guarantee.
A favorable credit bureau report.
The specific borrower conditions may require you to meet additional conditions or submit additional documents.
Repayment of a short-term loan
Short-term loan repayment plans allow for manageable amounts to be repaid over 1, 3, or 6 months.
Uses of short-term loans in Ghana
Short-term loans can help you to:
Pay medical bills that arise unexpectedly.
Take care of the cost of a wedding, a family event, or a funeral.
The farming and planting of crops.
Benefits of short-term loans in Ghana
Ghana offers many advantages to its citizens for short-term loans, including
Fast approval process.
Funding time is quick.
It helps increase your credit score when you repay the loan early.
The acquisition is easy.
The disadvantages of a short-term loan
Smaller loan amounts characterize them as their major disadvantage. Also, because they require you to return or pay off early, they involve small amounts. Hence, making it more affordable for borrowers.
Conclusion
Short-term loans are ideal for those who require a quick boost in cash. It is a contract between a bank and a borrower where the bank provides the borrower with a loan. This could be in local or foreign currency for a specified time period. But does not exceed one year. They usually charge interest on the individual drawings. Which they make under the loan at a rate agreed at the time of the drawing.