In recent times, the government of Ghana has made loans available through many programmes in order to ease poverty. Therefore, Masloc loans is a microfinance loan programme for start-ups and small businesses. They modestly established it to finance the poor in the various sectors of Ghanian economy. Essentially, this Masloc loan is targeted at reducing poverty, creating employment and wealth.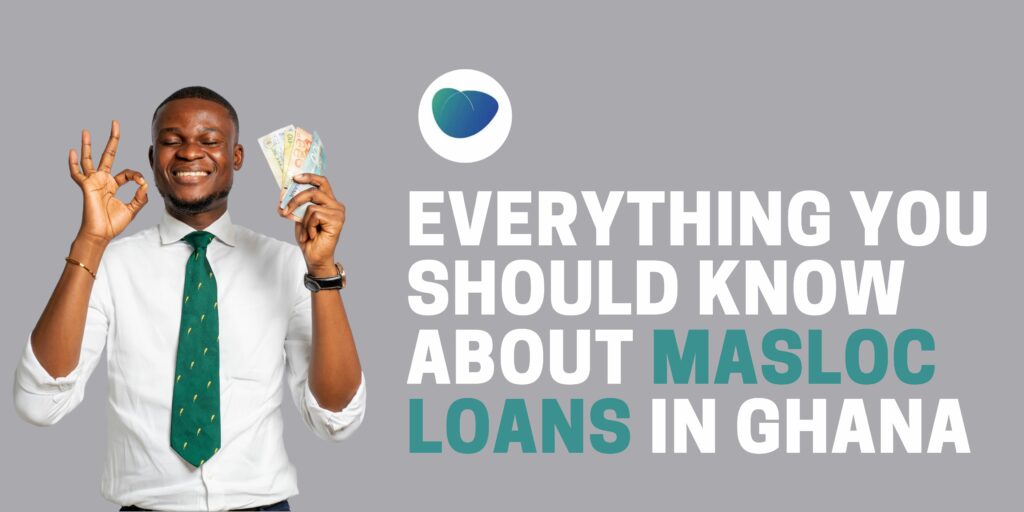 About the company
MASLOC stands for microfinance and small loans center. A top microfinance body in Ghana that implements government microfinance programmes aimed at reducing poverty. Their goal is to provide entrepreneurs with micro- and small-scale loans.
They specialize in quick, easy, and accessible micro-loans. This leads to increased employment and wealth generation. So many have benefited from this programme and people are still benefiting.
What is the work of Masloc in Ghana
Masloc is a microfinance bank programme for the less privileged known for several things, such as:
Implementing the government of Ghana's microfinance program to reduce poverty
A provider of small and micro loans for start-ups and small businesses
Provides easy loans.
Enhances job creation and wealth creation through small business growth.
Masloc loan interest rate
The interest rate applicable to Masloc loans is basically 1% per month for all loans. However, one thing is certain, which is the fact that they would state the interest rate for each type of loan and the duration.
Masloc loan requirements
With Masloc, each loan had its own minimum requirements. However, most of each loan product includes the compulsory qualification that the borrower must use the money to fund or scale a small business to enhance economic growth.
Masloc loan products
Masloc loan scheme helps in business growth and property alleviation. Their loan products remain the programme's major selling point. Therefore, the loan services they provide include:
Group/micro loans
Car loans
Small loans
On-lending loans
Masloc group/micro loans
Micro-credit schemes focus on groups/cooperative societies, whose members are typically between five and twenty-five. The maximum limit for an individual within a group is GHC 1000. This credit scheme uses the group sharing principle. The entire group is liable for repaying the loan.
Note: There are no MASLOC loans that exceed 12 (twelve) months in terms of repayment and interest.
Basic application requirements
Application Letter
2 Passport photograph from each individual in the same group
National ID card
Business registration Documents
Business plan
Masloc car loans
The Microfinance and Small Loans Centre (MASLOC) offers saloon vehicles to unemployed persons looking for work under its vehicle hire purchase program.
Through the scheme, individual taxi drivers, especially the young, who belong to taxi and drivers' unions, will own their own vehicles after paying the loan facility within a four-year period.
Basic application requirement
Application Letter
2 Passport photograph
National ID card
Masloc small loans
Individuals can apply for a minimum loan of GHC1,000 and a maximum loan of GHC10,000. They require a loan beneficiary to provide adequate security. In addition, a guarantor who can redeem the loan will be provided too.
Application requirement
Application Letter
2 Passport photograph
National ID card
Business registration Document
Investment plan
Management Account with Two (2) years financial statement
Document of land ownership
Resolution letter from Board of Directors
Requirement for Guarantor:
Three (3) guarantors
One (1) passport picture
Photocopy of national ID
Three (3) months' pay slip
Masloc on-lending loan
Microfinance Institutions (MFIs), Departments and Agencies (MDAs) and rural banks can get loans for business expansion. Here, all MASLOC loans have a limited term of only 12 (twelve) months.
Application requirement
Application Letter
2 Passport pictures
Photocopy of any National ID card
Company and Management Profile
All business registration Document
12 months bank statement of business
Business plan
Financial Statement (2 years)
List of Assets
Document of land ownership or rental agreement document
Collateral
Copy of operational manual
Requirement for Guarantor:
Five (5) guarantor (Where applicable)
One (1) passport picture and photocopy of national ID each
6 months bank statement
Masloc loan application
Application for Masloc loans is very easy. You can apply through their website or by visiting their office. Follow the steps below:
At any Masloc office near you, submit a properly filled out application form. State the loan amount and the purpose of the loan.
One of the loan officers will invite you for a preliminary assessment. They will reveal all other information you need to know about the loan to you.
lf you qualify for the loan, they will process your application
As soon as they approve your application, you receive your loan within a short time.
Masloc loan calculator
This is the online tool used in calculating and checking the interest rate and the amount due for each type of loan. It is very easy to use. We advise that rather than complain that you don't know the amount due for each loan, use the online loan calculator and find out all you need to know.
Masloc loan office
For further enquiries, kindly contact the call centre on the following numbers:
Telephone: +233-302-782527 or +233-302-782528 or +233-302-782643
Head Office: 29 Third Circular Road, Cantonments.
Postal Address: Private Mail Bag 261
Fax: +233-302-782532
Email: info@masloc.gov.gh
Conclusion
As one of the microfinance lenders in Ghana, Masloc loans are relatively easy to get as long as you qualify. Their loan services are available mainly at business levels, providing just what you need. It is a scheme mainly to ease poverty, create employment and help startups scale up their businesses.