Loans in Ghana without collateral offer options of loans to borrowers who cannot offer their assets as backup for a loan. Besides that, some other borrowers might not have enough assets to offer as a collateral for the loan amount they need. However, considering the fact that getting a loan in Ghana could be an uphill task, despite the reason you need it. This idea of offering a loan to people who need it is absolutely astonishing despite the economic situation world-over.
However, the demand for collateral by lenders makes most borrowers back off from getting the loans they need. As you read along, you'll know more about loans in Ghana without collateral and so on.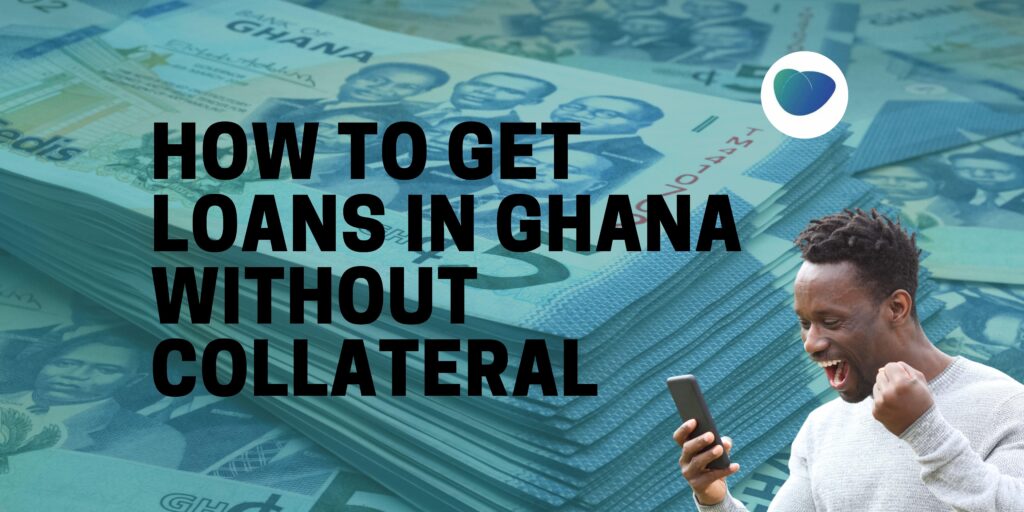 What is a collateral loan?
They often call a collateral loan a 'secured loan.' This means that you have to guarantee the loan by something you own. So if you can't pay your loan back, the lender may claim the collateral. And this could be any of your assets; whether it's a car, savings account, piece of jewelry, investment portfolio, or your home.
Therefore, the opposite of a collateral loan is 'loan without collateral.' Where lenders do not require you to guarantee the loan with something you own. That sounds really cool, doesn't it?
What are the loans without collateral in Ghana?
There are some loan offers you can get from lenders in Ghana. However, because of the advancement in technology, you'll most likely be able to access online loans without collateral.
Where you can get loans in Ghana without collateral:
1. Paylater app
You may receive a loan in Ghana without collateral, paperwork, or guarantors with the Pay Later app. One of the more intriguing parts of Paylater is that if you suggest someone to the site and they repay their credit on time, you earn a discount on your next loan. Complying to the agreed-upon repayment terms allows you to get higher amounts.
The following is how you can apply for Paylater loan without collateral:
Download the Paylater loan app from Google Play.
After that, fill out some basic personal information.
The system will evaluate your application for credit eligibility once you complete it.
You will receive the money within 5 minutes of approval.
2. Zidisha Loans
Zidisha loans operate through the internet as a peer-to-peer loan company. They help individuals to raise capital for their projects and businesses. This becomes possible by the willingness of other individuals to lend money to entrepreneurs who need the money urgently.
Zidisha offers loans of up to GH₵50,000 without collateral. And they have made a name for themselves because of this magnificent offer.
The requirements for Zidisha loans include:
Your objective
Your target market
Repayment plan
A compulsory GH₵40 payment for loan processing.
3. Carbon Ghana
They are one of the top online loan providers in Ghana. You can get a loan from them regardless of your economic or social category. Also, you can easily make your loan requests, processing and payment through their android mobile app.
The requirements for Carbon Ghana include:
Bio-data of the applicant
Employment details
Passport
Amount you wish to borrow.
The disbursement of money is quick for you to meet your immediate needs once they approve it. The loan amount ranges from GH₵5 to GH₵1,000 without collateral. One important thing to note with Carbon Ghana is that there is no extra charge for delayed repayment.
This MTN's loan offer is very popular in Ghana with over 70% mtn users. It is only available to MTN customers who have mobile money wallets. Moreso, with the mobile money wallet, you can get up to GH₵1,000 worth of loan within 5 minutes. They only require you to be an active MTN mobile money user. Besides that, they'd prefer you to perform some transactions through your wallet. And these transactions could buy airtime, data, sending and receiving money through that wallet for the past 6 months. However, this does not require collateral from customers. You get your money on the go as soon as you complete your application via USSD code to access your loan.
You can conveniently access the Fido loans through your mobile wallet. The only thing Fido loans require is employment history, valid identity card and residential details. They review this immediately when you submit your application. If you qualify for the loan after review, then you will get your money in a few minutes.
Meanwhile, for you to borrow a vast amount of money from Fido loans, you need to build a credit history with them for some time. You start this by borrowing small amounts and pay back in due time, over and over.
6. XpressLoan
MTN offers yet another fast mobile loan in Ghana without collateral. It's offered to MoMo customers who use their mobile money account frequently and routinely reload their MTN phone with airtime. Note that they do not fix the charges of this credit product. As a result, while applying for a loan, it is critical to understand the terms.
To get an XpressLoan;
Dial *170#
Select 'Financial Services' from the drop-down menu.
In that order select 'loans,' 'XpressLoan,' and then 'Get a loan.'
Input the PIN for your mobile money account.
To choose the amount you prefer, go to 'View Offers.' The options usually range from 50 to 1000 Ghanaian Cedis.
Confirm the payback schedule that was agreed upon.
What are the pros and cons of loans without collateral in Ghana?
Every loan type comes with pros and cons that every borrower must beware of. These pros and cons would help you decide whether you can take the loan.
Pros of loans without collateral are:
No collateral involvement.
Faster applications and processing.
You have a large potential borrowing amount.
Cons of loans without collateral are:
It has high interest rates.
Most loans without collateral are short terms.
It involves personal guarantee.
Conclusion
When the storm of financial problems has passed, there is always a sigh of relief and a breath of fresh air. Especially when you have a remarkable alternative, like a personal loan to cater for your personal needs. Or a business loan to help you invest or expand your business and other loan options. But loans without collateral in Ghana are the next big thing that has garnered the attention of many Ghanaians. Some financial institutions in Ghana now ensure the populace does not have much to worry about regarding access to loans. However, repayment of the loan you get is essential in order to keep your credit score in a perfect condition. So that you can access another loan in the future.